CHP caught up with northern Operations Director Geoff Edwards at Care UK's recently opened Lauder Lodge in Edinburgh.
CHP: Tell us about your background and how you joined Care UK
GE: I started off in health and social care as a care assistant when I was 16 in 1991. I worked through various roles into management. I took up my first home manager post in 1997 in a small residential home and became a regional manager in 2005 for Southern Cross. I continued in that role in 2009 and after a restructure I became an area manager for 27 care homes in the north-west of England. It was a successful region until Southern Cross ceased trading in 2011. Following two interim roles, I joined Care UK as regional director for the north-west covering seven services in March 2014.
Story continues below
Advertisement
I was promoted to operations director in March 2015. I was responsible for 29 services and then through various restructurings I became responsible for 64 homes. In the last two years, I have had the new build region join my portfolio in order to standardise procedures and culture within the operations division. Most recently, we have acquired a home in Knebworth, we have commissioned Snowdrop House in Ware, Hertfordshire, Highmarket House in Banbury in October, Lauder Lodge in Edinburgh in December and another home in Bromsgrove in January. We have two further homes in Sutton Coldfield in April and Murrayfield in July this year.
CHP: What is the geographical spread of Care UK's North region?
GE: It covers the east of England (Suffolk, Essex and Norwich), Berkshire, Cheltenham, the Midlands, the north-west and north-east, and up into Scotland as far as Aberdeen.
CHP: Lauder Lodge attracted some criticism for its policy on seeking guarantees from residents that they could fund their care before their admittance to the home. What is your policy on funding?
GE: We ask our customers for assurance that they have the relevant funds to pay for their care for a period of two years, however, we do not carry out credit checks. It's not an absolute position. It's around having individual conversations with people. If people do not have the required level of funding, it is something that we can discuss on an individual basis. Where people have not got that level of funding we will endeavour to get as much support as we can.
CHP: What would happen if the private resident's funding runs out before the two-year period expires?
GE: Then they would automatically qualify for state funding in either England or Scotland and we would approach the local authority for the contract fee we have agreed with them. There are also occasions where people are self-funding their care but their needs become so great that they qualify for continuing healthcare. These conversations happen every day. It's an open conversation.
CHP: How many homes do you have in Scotland?
GE: We have six homes in Scotland. We opened our last new build in 2013, which is another predominantly self-pay home. We recently had a one year contract with Edinburgh Council and the CCG for step down beds at an agreed fee rate. We are keen to work with our partners to offer that facility to the community. That's something we would consider here if we feel there was a need for that service. We want a successful business but we want to provide what is right for the individual and the community.
CHP: What is the private:LA split across your region?
GE: It's very mixed. Up and down the country it's roughly 50:50. We have homes in Gateshead, Darlington and Middlesborough that are all local authority. All of our customers are important to us and get the same level of care, it's just the add on offer that would be different.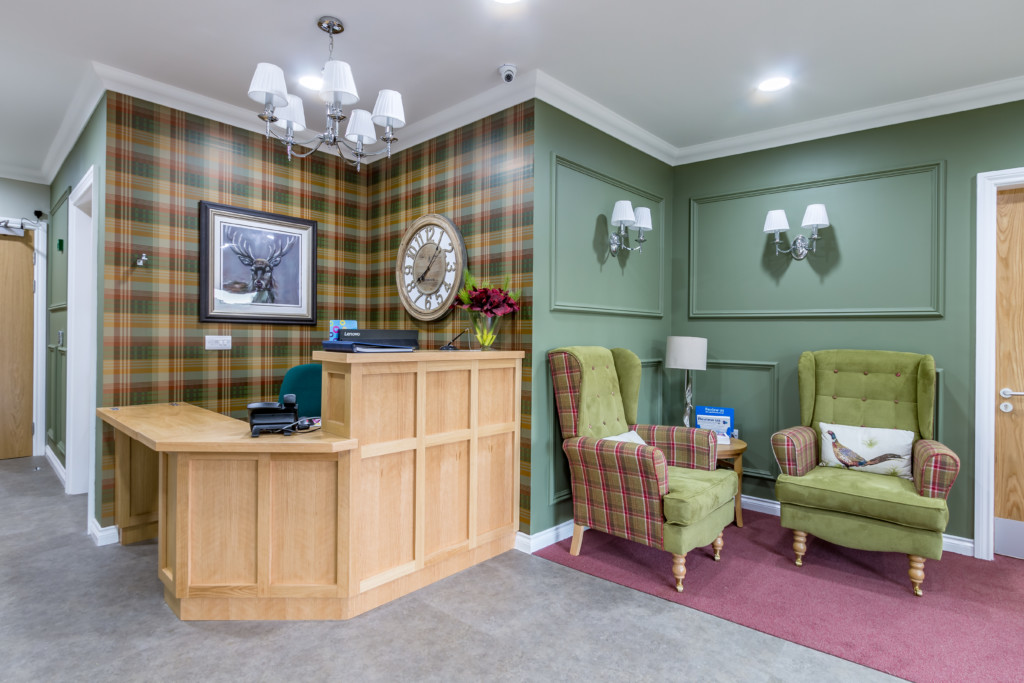 CHP: I presume your new build homes are focused on the private market?
GE: They are.
CHP: Do you have a figure where you would like to be in terms of private care across the region?
GE: No because it's a very mixed customer base. We are making good progress on our aim to achieve a 50:50 split.
CHP: How much do local authority fee rates vary across your region?
GE: There's a huge variance in fee levels.
CHP: What are the key factors determining where you position a new home?
GE: We wouldn't build a home in an area that is over saturated with care provision. We look at areas where homes may not be fit for purpose in 10 years' time. We research what customers in a particular area are looking for. Our dementia care offering today is different from what it was a few years ago because research and best practice has progressed so much. We are looking at the journey of what that community needs now and what will give us long term sustainability. It's a model we continuously review.
CHP: Where are you targeting new developments?
GE: We are continuing to look at Scotland. We have a relatively small number of beds here so we are looking to grow our brand. The Midlands is an area we have focused on in the last few years.
CHP: What is attractive about the Midlands?
GE: There's strong demand for our self-pay offering in the region.
CHP: How are you modifying your dementia care offering across the region?
GE: Our Living Well with Dementia initiative is one pillar of our Fulfilling Lives philosophy. In the last year we have signed a partnership agreement with the University of Worcester as part of our dementia strategy, which involves training designated dementia champions in each home to provide colleague training and support. We work around customers' life stories in order to understand their experience and life journey so that we can provide greater support. A second pillar is our Dining with Dignity initiative which ensures we stay focused on providing every resident with a positive dining experience. The third pillar has seen us put a lot of focus on developing our approach to activities resident engagement with the Meaningful Lifestyles pillar of Fulfilling lives.
CHP: How is the region split between residential and nursing care?
GE: Roughly 50:50.
CHP: How challenging do you find nursing recruitment?
GE: We look at all our services individually. We don't have a standard nurse offer or recruitment and retention plan. We are focused around good nurse recruitment. An excellent induction process is key and looking at a development path and offering a long term career. We want to encourage talent growth. One of our newly appointed home managers was a registered nurse two and a half years ago before becoming a deputy manager. That kind of example helps us demonstrate to people that they can have a long and fulfilling career with us.
We have overseas programmes to take up the shortfall in nurse recruitment in some areas. We have pockets of homes where we are somewhat reliant on agency. We always try to ensure we have a balance of our own and agency staff to ensure the continuity of care to our residents. We have some regular agency workers who don't want the commitment of a contract for personal reasons. We have a number of agency nurses who have joined us to take up the opportunities we offer. We are good at retaining people because of the career pathways we can offer. I came to Care UK with the view of going into a senior role and that's I want my people to see.
We have seen a reduction in interest from overseas workers because of Brexit. We had launched an overseas nurse programme prior to Brexit, however, due to language and entry requirements that process has now become very long. You are now looking at 18 months to two years to bring someone here.
CHP: Would you like to see any changes to speed up the nurse recruitment process?
GE: I would like to see a better UK nursing programme to attract people here. The sector needs to better demonstrate that is an exciting and interesting role. There's a real reward to be had from making a difference to people's lives.
CHP: Where have you been looking to attract people overseas?
GE: We have been looking at India and Dubai.
CHP: How do the Scottish and English regulatory systems compare?
GE: They have become closer. The CQC system has become more highly focused over the last two years. The Care Inspectorate has changed its way of inspecting this year and is focusing more on dementia care in terms of the lighting and environment, and dementia sign posting.
CHP: How do the approaches to funding between England and Scotland compare?
GE: I think the differences between the two countries are less marked than is commonly assumed. Yes, Scottish residents are entitled to free personal care but that only represents part of the costs of a care home place.
All parts of the UK are seeing unprecedented demand for social care services and the challenge everywhere is to find a funding solution that is sustainable, allows future investment in services and give the means for providers to be able to attract talented and compassionate people to work in the sector.
CHP: How do you go about maintaining quality across the region?
GE: I am a tough operator. Quality for me is business critical. I have seven regional directors who are required to visit all services. For me it's about attention to detail and being out and being visible and constantly checking. Learning from lessons is very important and knowing your business is key. It's about ensuring there is accountability and support when quality issues arise to make sure that we do better and improve any standards that we need to. I will visit any homes that are receiving support on a regular basis. We have just received an Outstanding for our Mildenhall Lodge in Suffolk. We have a number of homes we expect to be rated Outstanding in the coming months.
CHP: What are the main challenges facing the sector?
GE: Funding is a key issue and nursing. We are seeing increasing cost in terms of the Living Wage (rightly so) and the cost of care has increased significantly. There needs to be a better nursing strategy to deal with the challenges we all face in the care sector.
CHP: What would you like to see in the government's Green Paper?
GE: I should stress that I'm not involved in this at all but personally, I'd like to see some long term thinking which isn't constrained by an exclusive concentration on short term budget cycles. In my mind, investment in new homes is a critical issue and we need a solution to publically funded care costs, which, as well as genuinely covering the costs of providing care, will enable and incentivise much needed investment in new homes which will cater for the needs of future local authority funded residents
Finally, for self-funders, a framework which is clear and transparent about the costs, and financial risks, they will be expected to carry, and those which the state may provide assistance with.