Ernie Digital founder Stuart Solomons explains why technological integration can lead to a dramatic increase in care home occupancy.
The Professor, a former member of Health Information Management Systems (HIMSS) and the American Telemedicine Association, is in the US for half a year, because of this, he is able to have access to the US telemedicine technology, which is years ahead of anything we have here in the UK.
The first thing he noticed was that when a video communications solution is provided for residents, their family and friends, 24 hours a day, it increases occupancy rates dramatically from the low-mid 80s to the high-mid-90s.
Story continues below
Advertisement
In addition, the video communications system, creates a much stronger interpersonal bond if all parties can be involved in the dialogue of the resident's care journey, resulting in greater levels of satisfaction and less commoditisation of the resident.
It is a sociological phenomenon that the better you get to know the relatives of the resident, the greater the rapport, and a higher standard of care.
Stuart's idea for a British made integrated, COVID proof communications and care planning platform, developed further when a family friend went into a care home in the north of England.
"I used to visit Ernie regularly," he explained.
"He was in severe pain and in urgent need of attention but it would take up to six days for a doctor to see him for a five minute consultation just to up his medication.
"One day after bringing his prescription, I told him, 'This is never going to happen again on my watch'".
Through his research as an academic, the business founder became aware of the high risk of a global pandemic.
"In the UK, in October 2016, NHS England modelled a computer simulated epidemic. The US ran theirs called Crimson Contagion in 2019, [see Wikipedia article] so we knew something was coming," Stuart said.
Spurred on by the suffering of people like Ernie, and the risk of the catastrophic impact from a pandemic on vulnerable people in care homes who are likely to be locked out of social inclusion, Stuart put his mind to finding a solution.
"I sat down and had a deep think about what was wrong with UK care homes, and it was blindingly obvious – nobody was putting the resident at the centre of their own care," he reflected.
"Industry puts the care home at the centre. If you go to one of the big care home shows there are 250 exhibits for care homes. I have never seen one exhibit for the resident. These people are the most vulnerable in our society and they are being ignored."
Stuart saw that older residents habitually suffered the three plagues of care homes: loneliness, helplessness and boredom.
"What I have done is to change the whole paradigm to put the resident at the centre," he told us.
"I realised the starting point was to make communication available for all these people."
The original concept for Ernie Connects was born.
"In 2019 I developed an 'elderly friendly' communication platform centred around the resident," Stuart remembered."
"I thought if I can create a communication system where an old person can do something incredibly simple that connects them with their friends and family, making technology the servant not the master, we will have an elegant solution to the three plagues.
"I have invested a seven-figure sum on Ernie Connects, hiring 15 software engineers and some of the sector's most respected specialists to create this communication channel and I believe it's a social obligation to provide residents with full, all-time communication with their friends and family."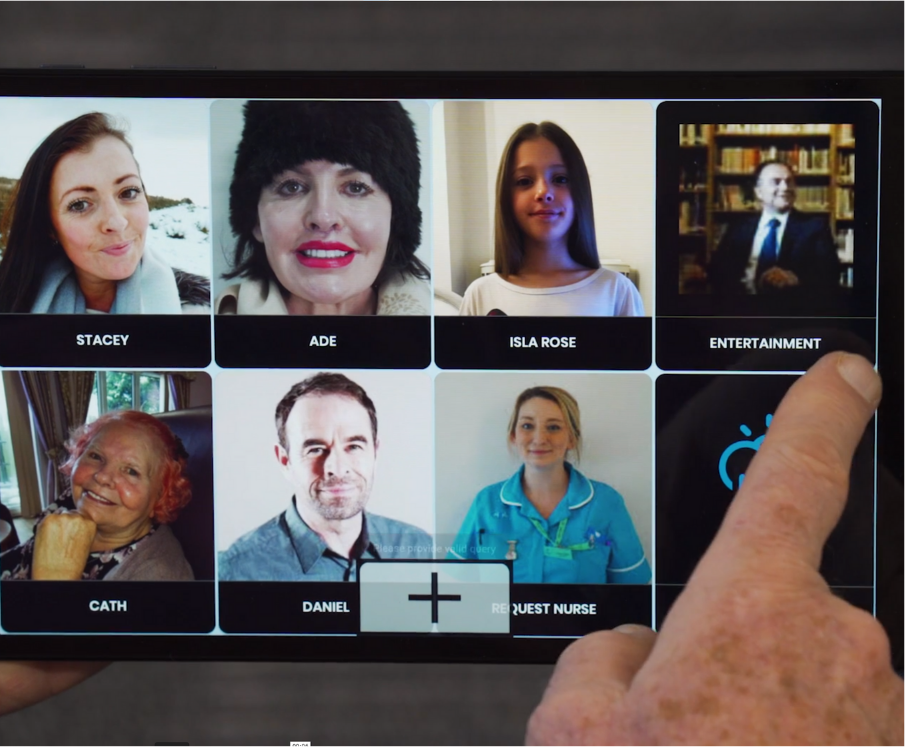 To develop a digital care plan for the system, Stuart brought in care sector specialists from care home businesses with a CQC background.
Claiming another industry first by making the care plan totally transparent for all the friends and family, Stuart noted: "It took years to develop, and we believe this to be the most comprehensive digital care plan in the market."
As well as a care plan, Ernie Connects includes a motion sensor, nurse call system, a full suite of entertainment features, including specialised applications for the 70% of people in care homes who suffer from cognitive decline or dementia, movement or fall alert system, medical video consultation and AI health monitoring.
An AI facial recognition system monitors vital health indicators such as blood pressure, breathing rate, heart rate and now incorporates pain recognition software in a partnership with PainChek – all of which are free.
Residents are given a new Samsung A10.1 Tablet Pro, pre-loaded with the Ernie package so they can communicate immediately with their loved ones.
The tablet has 4G (along with WiFi), meaning residents have an Internet connection anytime and anywhere.
"At the start of the COVID crisis, I rang up 28 government departments and said if you buy the hardware I will supply the system for free," Stuart told CHP.
"I told them this is COVID-proof communication. Residents can speak to their family, and they will be able to allay their fears as some of the residents will know what is going on. No-one replied."
Undeterred by the wall of silence from government, Stuart successfully trialled the system in the UK and US during lockdown, and officially launched in May 2021.
He is currently in the process of negotiating a 3,000 user deal with a care home operator in the US and has big ambitions for the UK.
"My aim is to cover 10% of the resident population in the next 24 months," Stuart noted.
"I want to get 40,000 of these into care homes. Care homes have a moral responsibility to implement this facility if only for the medical platform. It costs the care home nothing and gives them a huge competitive advantage.
"When families selecting a care home see that you have Ernie Connects, they say this is the care home they want because this is putting their grandma at the centre of care. They can see grandma every day and take part in looking after her."
When explaining the pricing model for the system, Stuart said his motive was philanthropic and not commercial.
Care home operators are charged a £50 per month per user, which can be added to their resident charges.
"It's basically the cost of a phone contract but with a huge range of free functionalities," Stuart explained. "I decided to price this for the residents not for the care home."
The system is designed for the challenges of being old and frail. As such it could not be easier to use.
"I wanted a user platform that works for everybody," Stuart stressed.
Residents can connect instantly with their loved ones by simply tapping a picture of their faces on the device.
Similarly, friends and family can auto connect with residents so that grandma or grandad does not even need to answer the phone.
"It can be set for always-on video so you can monitor grandma every hour of every day, if that is wanted," Stuart explained.
"She can watch the kids coming home from school and watch you coming in from Sainsbury's. You can be on Mt Kilimanjaro and grandma can see what you are doing.
"It's what's called social inclusion. It's grandma's window on the world."
The functionality also provides peace of mind for families by enabling them to see how their loved one is being cared for.
"They can see if she has changed her dress through the day," Stuart explained.
"You won't get accusations of abuse because you are able to monitor what is going on. You are now in on the audit trail.
"It's a social responsibility to install this system, if only for the transparency it provides."
By 'being there' families can forge relationships with carers.
Stuart explained: "When the carer and the daughter are together on the screen, they start talking.
"It creates social adhesion because grandma is now not just a resident, she's a mother, and you know them because you are talking together.
"The family can take part in their caring. If grandma is being a bit grumpy and refuses to dress, the family can help. It makes the carer's life easier."
Video conferencing is a vital tool to help ease feelings of guilt and separation anxiety during a resident's traumatic admission to a care home, Stuart noted.
"It can take weeks for grandma to bed into the new environment," he observed.
"If you give her an Ernie Connects on her arrival, she can still be talking to you even as you drive off.
"The answers to questions such as 'what kind of clothes do you wear?' can be dealt with by friends and family.
"Grandma's introduction is made smoother and calmer and much quicker and less stressful. She doesn't suffer from loneliness, helplessness and boredom."
Families can also be there with their loved one during emergency situations such as being admitted to hospital.
"If grandma goes to hospital she takes Ernie with her, the system is WiFi and 4G, so you can be there with her in the ambulance and then in the hospital to talk to the doctors when she arrives," Stuart explained.
"You can tell the doctor all her details. They will be able to check all her personal health information and history as it is stored on Ernie.
"This is making the resident the centre of their care. You can talk to grandma when she is anxious or bored, waiting in hospital."
The system's free entertainment system, which includes radio, TV, Spotify, Netflix, social media and Alzheimer's apps, can help grandma destress.
Importantly, claiming an industry first, Ernie's video conferencing capability also provides telemedicine functionality for residents.
"It can take days for a doctor to visit a care home resident," Stuart said. "Meanwhile, they are suffering, poorly and they can't do anything for her. The family knows she is in distress."
Ernie Connects' 'doctor app' provides the solution, Stuart told CHP. The app connects GPs directly with every resident in a care home. GPs can see the residents and all their care plan and meds details.
"The carer calls up the GP and within 30 minutes the doctor is going through the video consultation," Stuart explained.
The system is also compatible with GP Connect, the NHS Digital system which allows care homes and GPs to share clinical information.
"It's the missing half of GP Connect because that doesn't put the resident at the centre," Stuart said.
"There's nothing there that allows them to look at the resident."
By linking with pharmacies and GPs, Ernie Connects also eliminates prescription errors by providing end-to-end visibility. The start-up founder revealed he was currently in discussions about partnering with one of the UK's main pharmacy groups.
Using AI facial recognition, the system's camera measures blood pressure, breathing rate and pulse rate in 40 seconds.
The technology, which has been authorised by NICE and the NHS, is already in use with 8,500 hospital patients and has already measured 1 million heart beats, Stuart said.
"Through COVID communication and remote doctor consultation we could have saved 12,000 people's lives during the pandemic and that's a conservative estimate," he argued.
"COVID was brought into the care homes, as the residents were not meeting outside. You wouldn't need to visit grandma if you could video call her all the time.
"Because you have continuous vital sign measurements you can work out before the virus appears that this person has caught something.
"You can put them in isolation. By the time they found out, during the epidemic, they had already infected five other people. Ernie Connects would have identified a plague in any one of those care homes."
US research into improved patient outcomes through telemedicine shows spectacular results.
"Visits to the doctors virtually don't exist in parts of the US," Stuart observed. "The ascension trial in Pennsylvania is a great example of telemedicine in action. It involved 65,000 people who were discharged early for post crisis telecare. It resulted in a 75% reduction in re-admission to hospital and much better recovery outcomes."
Additional clinical and care features of the system include motion sensors that help avoid intrusive and time-consuming night staff door knocks by raising an alert when the resident is out of bed.
This reduces risk of falls, as a reassuring, steadying call can be made immediately by the night supervisor.
The resident can also tap Ernie's 'request nurse' icon and talk to the nurse who can assist in person
if necessary.
"Fewer staff can manage a floor because the residents can call the family first for any needs and using the system the nurse and staff can visually monitor all residents simultaneously," Stuart noted.
"In the US, they have done pre- and post-satisfaction studies on carers where they have systems like this and they find that because the resident isn't lonely, helpless or bored, they are less demanding of carers time, so the turnover of carers goes down dramatically," Stuart said.
"Agency costs reduce because you are keeping good quality, qualified staff. Productivity goes up, costs go down and occupancy rates rise from the low 80s to the high 90s."
Ernie Connects features an alert system that shows notifications in the event of an emergency such as an evacuation and provides a reminder when activities are taking place.
The device can also be used for on-the-spot teaching and training to support staff so that they can practice carrying out a new procedure or equipment.
Data security and compliance are also guaranteed by the revolutionary resident centred approach.
"I've seen lots of systems that don't even come close to the eight principles of the Data & Protection Act," Stuart noted.
"One component of the DPA requires all information to be technically and physically secure. If you have it on a phone or a laptop it's not physically secure. You can lose those. If it's on a piece of paper it's even worse."
Ernie Connects transfers ownership and control of care data from the care home to the resident.
"The resident and their medical surrogate or Power of Attorney controls the data," Stuart highlighted. The resident owns it and can have it independently audited it by anybody. Each resident has their own 'cloud' to securely store their data."
Shifting the ownership of data and security to residents and families could save care homes from the catastrophic impact of legal suits, Stuart said.
As it is personal health information, it commands the highest level of privacy and the courts may decide that every breach is a claim.
"Ernie is unique because it has a litigation shield so solicitors know they can't sue us," Stuart added.
As well as providing residents and their families with piece of mind, the transfer of data control ensures care notes cannot be tampered with by carers ahead of inspection.
In the event of a resident's death, Ernie Connects can provide the family with a pen drive containing all their conversations and videos with their loved ones.
Summing up, Stuart said Ernie Connects' radically new approach will herald a new revolution of resident centred care.
"We have put the resident at the top of the pyramid not the care home," Stuart said. "I can charge any sort of money for this system but I am not interested in doing that. I am interested in looking after the residents."
The message was clear from this passionate philanthropist: change is coming, and providers cannot afford to let it pass them by.