With apartments averaging £1.5m and weekly nursing home fees ranging from £2,500 to £3,500, LifeCare Residence's Battersea Place and Albert Suites are targeted firmly at the top end of the luxury retirement and nursing home market. CHP met with Chief Executive, Nigel Sibley, to find out more.
After founding LifeCare Residences in New Zealand 35 years ago, it was not until 2002 that owner Cliff Cook began looking at bringing his retirement village model to the UK.
"It took us 16 years to enter the UK market in a considered way," Nigel told CHP.
Story continues below
Advertisement
LifeCare finally entered the UK market when Cliff bought a small retirement village in Dorset in 2006.
"Cliff wanted to come to the UK as he had family here," Nigel said.
"He could never understand why the provision of retirement accommodation in the UK was not as advanced as he saw it was in New Zealand and Australia and parts of the US.
"He thought it would be a great opportunity to bring his concept here.
"Cliff wanted to create something that had a broad spectrum of accommodation for people who are moving for a lifestyle reason and managing their early retirement through to the need for some support and care and nursing and end of life, with the belief that the retiree wanted to make a final move," Nigel said.
In order to meet demand from a generation of retirees who were asset rich but who also sought financial certainty in their later years, Cliff developed the LifeCare deferred payment model, which provides subsidised care and luxury amenities and services at a fixed rate for life.
Nigel said he was unapologetic about LifeCare having established a reputation in the UK for market leading fee levels in order to provide high net worth residents with the luxury lifestyle they seek.
"The market is crying out for more accommodation of this type to enable people to sustain their independence in later life and access healthcare services in a very seamless way," Nigel said.
"The problems we have seen here with care providers recently have been due to people playing around with very thin margins that have not offered a very strong commercial basis.
"We are quite clear that we have a strong commercial basis from which we can make sure we can do everything for our residents and have an adequate return for us as a company so that we can operate sustainably in the long term."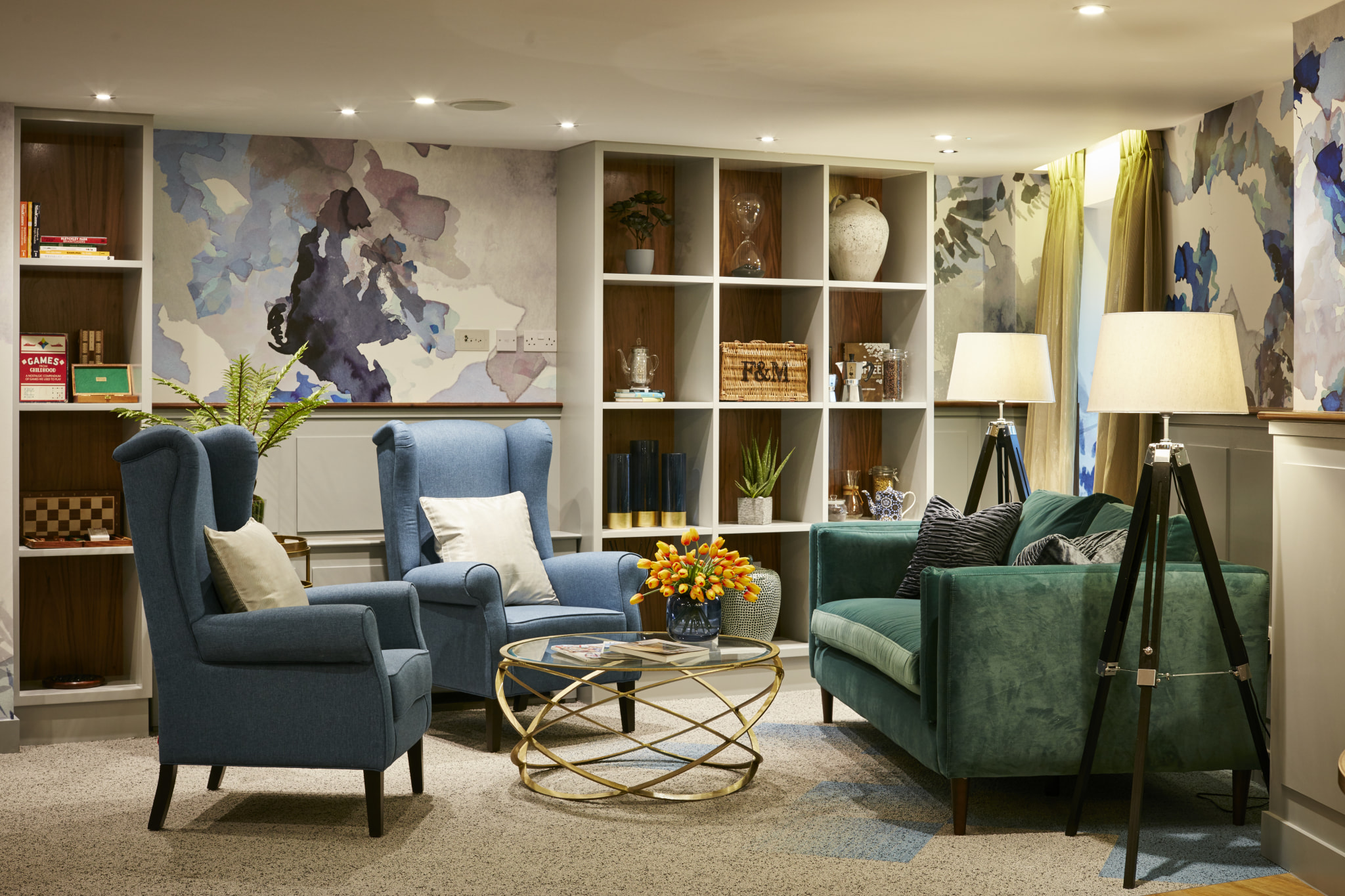 Luxury services, including a restaurant, concierge, chauffeur service, pool and cinema, are financed by LifeCare taking up to 30% of the resale value of residents' apartments when the property is sold after they leave the village.
"We are offering an awful lot more than your typical concierge service at a market rate," Nigel noted.
"The real cost of the village services is roughly double the amount that our residents pay through their service charge. They are aware that they are enjoying all the benefits here for around half the cost because of their deferred membership fee.
"Our buyers are clearly affluent and well-advised. The fact we have sold out at Battersea very quickly and have resold and have a waiting list does show that people see to the heart of what we are offering and the value of what it is. We are very proud of what we have done and believe this is a successful formula."
Having set up retirement villages in Dorset and Hampshire, establishing a community targeting London's wealthy elderly population was the next logical move for LifeCare.
"Coming to London was always our objective," Nigel told CHP.
"London was always the target because it is the worst served retirement living area within the country. You have 8m people who have no real choice in terms of retirement living. People might have retired and gone to the seaside years ago but these days they want to stay local and that's good for your independence because you have your own network. There's a massive concentration of property wealth as well."
Launched in 2016, the £108m Battersea Place retirement village and Albert Suites nursing home include 103 apartments and a 28 suite nursing floor.
The retirement living service and nursing home are managed as a 'cohesive entity' with both communities overseen by LifeCare's head of care, Paul Lowe.
"Part of the joy of the model is you have a lot of flexibility to deploy staff depending on the needs of residents," Nigel said.
"It's a very integrated facility. Our apartment residents love to know the nursing home is there. It's the engine of the village and offers high standards of care and nursing on a very flexible basis. Generally, to have people clustered together where the delivery of services is more efficient must be in everyone's interests."
With apartments ranging from £650,000 to £3m and nursing home weekly fees ranging from £2,500 to £3,500, Battersea Place is firmly positioned at the top end of London's private pay market.
Residents in Battersea Place enjoy a fine dining restaurant, concierge, chauffeur service, pool and cinema.
Albert Suites boasts a restaurant, two lounges, a hairdressing salon and self-contained facilities.
The home offers 24-7, specialist care, including nursing, residential, respite, palliative and end of life care.
Traditional nursing care can be complemented by a range of healthcare from physiotherapists, occupational therapists, speech therapists, dentists, opticians and audiologists. Holistic therapies, such as aromatherapy, acupuncture, massage and reflexology, can also be arranged.
"It's a very boutique style offering," Nigel stressed.
"There are no set mealtimes and no medication trolleys going down the corridor. This is a hotel inspired environment with full acute nursing care."
Staffing ratios (of four residents to one carer) are particularly high in order to meet the exacting demands of high net worth individuals used to exemplary service.
Having a high margin business model means LifeCare is able to offer an attractive salary and career package to its workforce.
"We offer a delightful working environment compared to other environments that our nursing staff might have had to endure," Nigel said.
"If we have to pay a little bit more we can accommodate that. We are privately owned, we are here to create long term value, not short term profit. Our ownership structure means we are able to do the right thing to make sure we have a long term, sustainable, quality offering and a business expanding in value. It's hard to get care staff so we have to play to the strengths we have."
Having established a foothold in the key London market, Nigel said the capital would be LifeCare's main focus as it seeks to grow in the years ahead.
The luxury care provider has purchased a second site in London at West Hampstead, a redundant reservoir site set amidst a densely populated residential area.  The site would accommodate a retirement village of a similar scaled to Battersea Place.
Having bought the site almost three years ago, the business has fallen foul of the capital's planning
requirements, however.
"Unfortunately, it's been challenging to convince planners that this is an application that they should support," Nigel reflected.
Having been refused planning permission by the council on the grounds that the development failed to provide affordable housing,  LifeCare's appeal was recently unsuccessful.
LifeCare is now considering the reasons for this refusal to determine the best way forward.
Nigel was scathing in his opinions of current planning regulations in the capital, however.
Unlike other parts of the country, retirement developments are given a C3 'Residential Market' classification, meaning developers are required to include an element of affordable housing in their proposals.
"We have been arguing very strongly with Camden and with representations to the GLA that the desire to see a large growth in affordable housing is absolutely laudable," Nigel stressed.
"We don't have a problem with that at all but there's also a chronic shortage of specialist accommodation for older people.
"If the delivery of retirement villages is going to be hampered by the need to have onsite affordable housing which is really not compatible – you are going to lose both."
The LifeCare CEO argued it was unrealistic to demand that retirement developers, who are seeking to provide a safe and reassuring environment for residents, include an element of mixed tenure on their sites.
"It's just the reality of a resident wanting to know they are safe and secure and independent, which means they have to have a cohesive community," Nigel said.
"Other forms of tenure don't mix very well with that."
The CEO said LifeCare had gone as far as offering to pay Camden Council a contribution for offsite
affordable housing.
"We would accept a formula where we were required to pay a fair amount that goes to the council to refurbish another extra care facility or build some new affordable housing," he said.
"Regrettably, we can't solve all the problems and we believe we should be welcomed because we are providing much needed specialist accommodation for elderly, often vulnerable, people. We are creating jobs. We are lessening the burdening on social care and the health service."
The impasse facing London retirement developers was further highlighted in April when the Mayor's office refused planning permission for a luxury retirement complex in Kensington and Chelsea on the grounds that it included just five affordable homes, or 3.3% of the total properties.  London Mayor Sadiq Khan wants affordable housing to account for 35% of new housing developments.
Nigel said LifeCare continued to lobby the Mayor's office, in partnership with ARCO, for a change to the current planning system.
"Surely it is everyone's interest that you see more of these developments happening?" he said.
"Planning is the biggest obstacle to the growth of this sector.  There's lot of financial institutions wanting to back companies like us because they see the long term value in our proposition."
Despite planning obstacles, however, Nigel said LifeCare remained committed to pursuing further growth in the capital and its surrounding areas.
The business is close to securing further sites in London and hopes to have two or three more developments completed over the next four or five years.
"We would like to have one being built and one going through the planning process at any one time," Nigel said.
"We would like to get a small cluster of these types of developments within a few miles of each other because that brings marketing and staffing efficiency."
The fact that LifeCare is the only international retirement community operator to have so far come to the UK reflects the relative immaturity of the market and the combination of short term and longer term obstacles operators face. Around just 0.5% of the over 65s in the UK live in retirement developments, compared with more than 5% in the US, Australia and New Zealand, respectively.
"A lot of the others are looking at the sector but have not done anything, which surprises me because the market potential is enormous," Nigel observed.
"Some of them have strategic alliances with UK based organisations but there's not a lot of evidence of change yet. Brexit is definitely a factor, as well as exchange rates and other short term factors. Once the mist clears on that I will be surprised if international operators don't start to come here either directly themselves or with a local partner."
While challenges remain for the retirement village sector, the relatively immature nature of the market and degree of untapped wealth amongst the elderly population makes the UK market a prize well worth fighting for.
"Living in a purpose-built, supported, community environment offers people a number of benefits to their own independence in later retirement years and their well-being and reduces their demand on the public healthcare and social care system, so there is a virtuous circle of benefits in creating these new retirement communities," Nigel said.
"The emerging retirement sector with a broad spectrum of lifestyle, care and nursing services, to go with the ability for people to own their own property and retain their independence in later years, is  a great formula for meeting the needs of retirees and also creating a sustainable sector that will grow over time."