Driving up to Bowthorpe Care Village is like arriving at a mid-size airport. The massive £19 million project on the outskirts of Norwich houses an 80-bed dementia care home, a 92-apartment housing with care scheme, and a central community hub. More impressive than the building is the multi-agency investment that made it possible. NorseCare, which is ultimately owned by Norfolk County Council, has managed to maintain private sector discipline for a publicly-owned project. We caught up with Karen Knight, managing director NorseCare, to find out how she pulled it off.
Care Home Professional: Just driving up to the Bowthorpe Care Village, it is impossible not to marvel at the scale of what you have built here, and how different it seems to what people expect from a care home. Describe this mega project from your own vantage point.
Karen Knight: Norfolk County Council had tried for many years to find a solution to improve its old, worn out care homes. They were built in the 1960s, they had no en-suite facilities, it was really difficult to support the increasingly complex care needs of the residents. They tried to close them, they tried to outsource them, they tried all sorts of ways to resolve the issue. They were getting poor CQC ratings and they needed £60 million of investment to bring the homes up to standard. Nobody came forward because of the TUPE [Transfer of Undertakings] cost of it.
Story continues below
Advertisement
About five years ago, the council decided it wanted its care homes to be run in an efficient, commercial, way. Our company, NorseCare took on 27 of the old local authority homes along with 1400 staff. NorseCare is wholly owned by the County Council. It is part of the Norse Group, which is also majority owned by Norfolk County Council, but Norse Group does most of its work outside of Norfolk.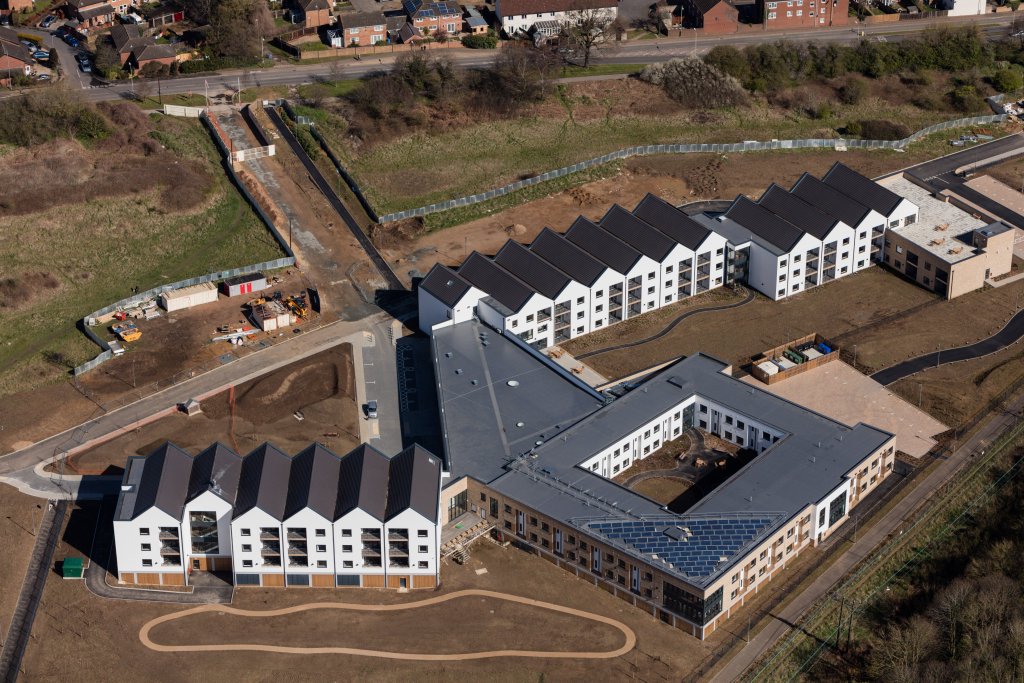 NorseCare is a sister company to Norfolk Property Services (NPS) and Norse Commercial Services (NCS), which the County Council created about 15 years ago. NCS has about 20 subsidiary companies around the country providing a whole range of facilities management services such as cleaning, ground work and transport. Most of those operations are large joint ventures with local authorities. NPS does property management, building, feasibility studies, engineering. They can do anything from a feasibility study right up to a completed building.
The Norse Group and Norfolk County Council partnership is a very successful model, and has been for 15 years in regard to facilities management and property management. NorseCare came into being when the County Council wanted a solution for the residential homes, and asked Norse to take them on.
As well as taking on the 27 council care homes, NorseCare has also put care into 14 extra care housing schemes, so we are the largest care provider in Norfolk.
In the five years we have been running these care facilities for the council, we have worked on improving things operationally, we've worked on business transformation, we have pulled around £1 million of costs out of the operation, making it run like a commercial company. On top of this, we have gone through a programme of closing the older care homes and moving their residents and their staff into facilities such as Bowthorpe Care Village. It is a very large transformational project.
When we started five years ago we closed one care home in Aylsham and transferred the people into a housing with care scheme run by a housing association. Two years ago we closed three homes in Yarmouth – something the council had never managed to do because they faced so much local opposition – and we built an all-singing-all-dancing specialist 88-bed dementia home called Lydia Eva Court. That home has won national awards and been recognised for the quality of its care by Sterling University. It is a fabulous place for people to live and for people to work.
Bowthorpe Care Village is our latest development. We closed four homes in Norwich – two dementia care homes with nursing and two residential care homes – and we have transferred the residents from those four homes into this Care Village.
CHP: Describe what we have here at Bowthorpe Care Village today.
KK: We have 92 housing with care apartments and an 80-bed dementia care home called Mayflower Court. So we can house around 170 people across the two parts of the property. Linking the two is a wonderful community hub with a bar area, shop, restaurant, café, bistro, wellbeing centre. The idea is that the hub brings the two communities closer together so that people living independently in their housing with care apartments can mix with people with dementia and their families in the hub. We have lots of community activities to encourage this.
CHP: Can you explain a little more about this project's financing?
KK: This is a very large property. The total project has cost around £19 million. We could not have raised that sort of capital on our own, so what we did was pull in the partners so that everybody had a vested interest in creating the 92 affordable housing with care apartments. This is probably the biggest, high specification, affordable housing with care development in the country.
I pulled the [Norwich] City Council and [Norfolk] County Council together. We were aware of this 2.3 hectare plot of land on the edge of the Bowthorpe housing estate. The housing estate has been expanding for the past 20 years, but developers were not interested in the area around this plot. We convinced the City Council, which owns the land, that if we develop the care village, then it will kick-start development of the surrounding land for houses.
We made the case that it would be a really good idea if they gave us the plot for free because they would get the
affordable housing they wanted, and kick-start the housing development around it, and they agreed. The County Council wanted housing with care developed, so they gave us £3 million. I then applied to the Homes and Community Agency (HCA), the organisation that funds housing with care projects. They provided £4.3 million, the second highest allocation ever made in the country, and this allowed us to invest so much in the specification ofthe project.
With the land and initial funding in place and the parties all together, we were off. We drew on our experience of Lydia Eva Court and our existing housing with care schemes across the county. We looked at what was working and what we could improve. We asked ourselves what we could achieve if we started with a blank piece of paper and an empty field.
We were originally planning, as NorseCare, to be the landlord for the property. But half way through the build phase we were told we did not have the necessary housing powers because we are owned by the County Council. We had to have a landlord in place so we pulled in Saffron Housing Association and offered to sell them this readymade, housing with care property that they could have with none of the pain that we were going through as the developer. They readily agreed and now rent each apartment to private tenants, or tenants that have their rent paid for them in the form of housing benefit.
There is a care element for the  housing with care apartments, so the County Council pays NorseCare for that.
CHP: I know a number of private care home operators, particularly at the premium end of the market, are
looking at adding housing with care to their portfolios, although I doubt they would relish pulling together the sort of public/private partnership model you have managed here. Do you think there is a model that would work from a private investor's point of view looking to get a return from self-funding housing with care residents?
KK: It would be very, very difficult, especially if you have to buy the land and build to a high specification. It would be almost impossible if you add the affordable housing element. When we looked at it, even with 50% affordable and 50% private purchase or private rental, it just did not work.
To attract higher paying buyers or tenants, you have to build to an even higher specification, and that model doesn't work either in a region like East Anglia. What I would say is that with the right location and the right
demographic wealth profile, the very big care villages could work.
CHP: Is NorseCare only running the Mayflower Court dementia home within Bowthorpe Care Village?
KK: We own the whole village, but have sold a long lease to Saffron so that they can operate the housing with care apartments.
We have full ownership and operation of Mayflower Court and the shared hub, plus we have a contract to provide care to the residents of the housing with care apartments.
CHP: What is the mix of residents in the dementia care home between private and publicly funded?
KK: We have 12 rooms out of 80 in the care home that we can sell privately, but the majority are people placed on referral from social care who cannot afford their own fees.
CHP: Do you charge your self-funding residents and your CCG-funded residents the same amount in the dementia care home?
KK: We charge £825 per week for the 12 self-funded residents, which is a very competitive price for this quality of care. The remainder of the 80 beds are on a block contract, and are mainly people that were already being funded by the local authority in the old care homes that we closed.
CHP: Given the quality of the environment, £825 per week sounds very good value.
KK: Yes, compared to many of the premium private operators, which are charging £1200 per week, it is incredibly competitive.
CHP: Since NorseCare is owned by Norfolk County Council, does that make it a not-for-profit operation?
KK: Technically, we are not-for-profit, but we do generate profits that are paid in the form of rebates to the County Council, or they are invested in the next new building.
CHP: Bowthorpe Care Village is the largest building offering specialist care for the elderly that I have ever seen. Even the Mayflower Court care home on its own is very large at 80 beds. How do you deliver the sort of person-centred care that your residents need and which the CQC is awarding the best ratings to?
KK: While we are a great believer in making the building as welcoming, stylish and sophisticated as possible, we know that the quality of care is more about how well the staff is trained and the culture of the team. A multi-million build is meaningless unless you get the care team right and the culture right.
Thankfully, some of the investors financing projects in this sector are realising this and are paying much more attention to the operators that offer the highest quality care, not just the best environments.
Alongside looking at the business side and controlling costs, we have also invested heavily in getting the staff to the right level. We have a very comprehensive in house training system. Our recruitment and training is highly selective – we look for people that have real empathy and compassion to deliver person-centred care.
CHP: That person-centred care is precisely what the CQC is looking for during its inspections. But, according to Andrea Sutcliffe, chief inspector of adult social care at the regulator, the larger, luxury homes are getting worse ratings than the smaller 1960s homes of the type that NorseCare is replacing.
KK: Operators have been very focused on creating environments that appeal to the sons and daughters of people with dementia. It is not the person with dementia that makes the decision on where they live.
Getting the care right for the people who actually live in care homes is all about getting the right manager in place and ensuring they have the support and tools to create a great care team and provide excellent leadership. We say that people either get it or they don't get it when it comes to understanding care, and having the compassion and passion to deliver it.
I think the CQC is right in identifying the issue with those large care homes that have all been built very quickly. They have all this funding behind them from the venture capitalists and investment trusts. They have boards and shareholders pushing them to spend. They have large contractors knocking out those buildings, particularly in the South East. Anybody can build a care home, if they have the money, but  getting the operations and care side right is really tricky.
CHP: The difficulty of delivering person-centred care increases with the size of homes. How do you deal with this in the 80-bed Mayflower Court? Do you divide up the home into smaller units with dedicated teams caring for fewer residents?
KK: In Lydia Eva Court [which has 88 beds] we did just that. We broke it down into almost six mini care homes. With Mayflower Court within Bowthorpe Care Village, we were restricted in the way we could build it and we could not achieve the smaller units here. What we do instead is to try to create smaller communities within the home so that people are moved with their friendship groups and care teams.
CHP: The CQC ratings are a very live business issue because people selecting care homes have huge amounts of information to guide their decisions, and ratings for every home can be compared as easily on the CQC website as people might compare credit cards on a comparison website. When the public realises just how easy it is to compare the ratings of care homes, the quality of care will directly affect the business performance of operators.
KK: It will. Right now NorseCare runs 40 properties, so we are dealing with a CQC inspection almost every week, and they go through absolutely everything over two days in an extremely thorough way. Right now, according to the LaingBuisson report on the quality of care homes, we are joint top among providers with over 500 beds. We have 100% Good ratings at the moment. I don't think there are any Outstanding care homes in Norfolk.
CHP: You opened Mayflower Court and Saffron Housing Association started moving people into the housing with care apartments this year. What is occupancy like today?
KK: Because we moved all the residents across from the four care homes that we closed, we are full at Mayflower Court. Around half of the housing with care apartments are occupied. That has been an incredible logistical challenge. I think if you asked some of the newer care home operators to move people that quickly, they would throw their hands in the air and take two years building up the numbers.
CHP: Have you finished the project for Norfolk County Council now, or do you have additional homes to build and older homes to close?
KK: We can potentially do another large dementia home for them in the West of Norfolk. Our intention has always been to do East, Central and West for larger builds. But, because of their budgetary issues, we are still waiting to hear whether they would like to proceed with the new home in the West.
Our other remaining homes are dotted across the county in smaller market towns, and it may not be possible to close them down and move everybody into another new care village. So what we plan to do instead is to build extensions on a number of the homes, and those extensions will house privately-funded residents.
The local authorities have indicated to us that they wish to block book fewer beds on contract, so we are building our capacity of private rooms. We have already built up a £2.25 million private business over the past two years. This has been very good because it has allowed us to invest more money in new builds and refurbishments, plus build the capacity of our care teams.
This also gives us a more robust business model because, as we lose contracts from the local authorities, we can replace that income with private residents.
CHP: That brings me back to my original question about the ownership of NorseCare, and who profits from the success of your business. It sounds like Norfolk County Council stands to enjoy bigger profits if it block books fewer rooms on behalf of the poorer citizens it is elected to serve. Isn't this a conflict of interest?
KK: Adult social services is the purchaser, and Norfolk County Council is the shareholder. The block purchasing is done by adult social services to NorseCare, which is owned by the council. The outcome is that citizens have access to a higher quality of care that costs the local taxpayer less.
CHP: Do you think you have found a model that you could take into other counties like Suffolk or Lincolnshire next?
KK: Certainly, if we are looking at residential care exclusively, a lot of those local authorities that used to run their own homes have outsourced to the big operators. What they have found now is that it has become a providers' market. There are some areas in the South West now where you cannot get dementia care beds or nursing beds. I can understand that, because the providers can't get the nurses to staff them.
Although local authorities have a set rate for what they will pay providers, if it is the right location and there is a shortage of beds the providers can name their price.
So, we have ever decreasing local authority budgets. The local authorities are trying to cling to the unrealistic fees they are prepared to pay. We have huge dependency levels and demand going up, which is a perfect storm. Providers are in a position to say: "I would rather provide my beds to less-dependent private pay residents". They pay more, they have less complicated needs and the operators don't have to get involved with all those commissioners. If county councils do want to purchase, they are forced to pay the price that the provider tells them.
It is a very difficult situation and we are starting to see some local authorities start to think they could take some of the specialist service back in house because they have a duty of care to manage the market and to care for older people.
Our model works really well because you can have some control if you set up a joint venture, share some of the profits. You can also be sure, if you have a good provider like Norsecare, to have that provision when you need it.
CHP: The challenge, it seems, is to maintain the discipline and efficiency of a private sector operator, and not to lose it when the public sector gets involved.
KK: The secret is to get the best of both worlds by working in partnership with the Local Authority who is the main shareholder whilst running the business as commercially and efficiently as possible.