CEO Hayden Knight explains how Orchard Care Homes aims to restore occupancy as it looks to emerge from the pandemic.
As with many care home providers up and down the country, the COVID pandemic took a heavy toll on Orchard Care Homes during the last year.
Having come out of the initial month of the first wave of the outbreak largely unscathed thanks to early preventative measures and policies, about 60% of the group's homes were affected during May and July last year.
Story continues below
Advertisement
"We stopped visitors in wave one so it was difficult to tell how the infection was coming into the homes," Hayden told us.
"We don't know for sure but it could have been agency staff. We had a lot of staff coming into the homes.
"Not everybody was vetted when they were discharged from hospital. Even when the hospital trusts were saying they were negative that wasn't always the case."
The CEO said the group was still carrying out lessons learnt analysis to establish the initial cause of outbreaks.
With occupancy having recovered significantly by the end of August, wave two of the pandemic was even more devastating for the provider when it broke in September and October.
"Every one of our homes has been affected by COVID in some way," Hayden told CHP.
"The virus took a very firm grip around November to December. It seemed to have changed and appeared a lot more contagious."
While the provider had been able to contain the virus during the first wave and limit infections to between 10 and 40 residents, wave two began to infect 60-70% of residents and staff in some homes. However, the number of residents who passed away following a positive test in wave two was lower than in the first wave.
"The difference was the sheer speed of the spread of infection even with testing and it lasted a lot longer than wave one," Hayden explained.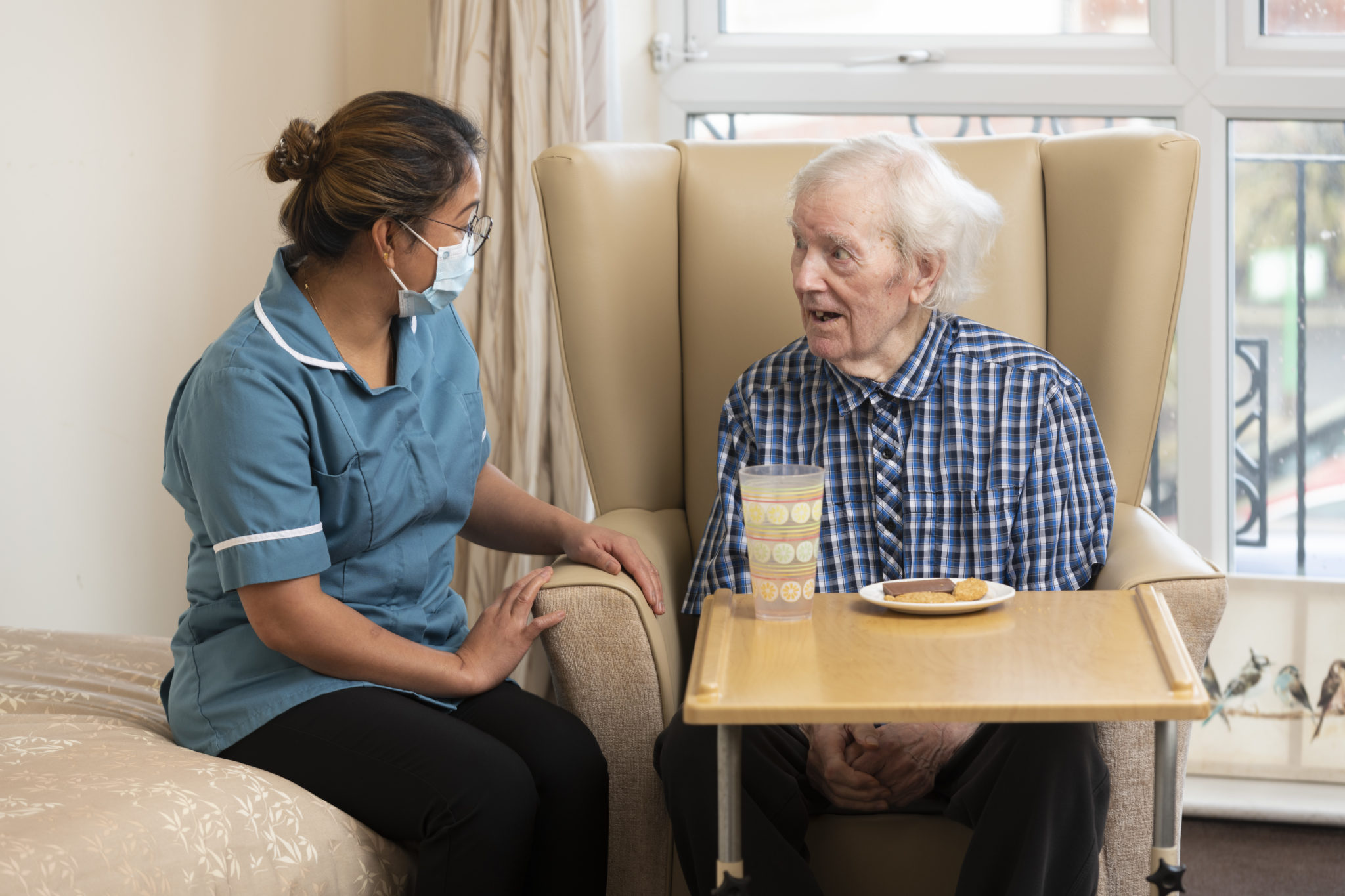 Hayden said services had been impacted in wave two despite testing and the company complying with CQC infection control inspections to ensure very robust infection control procedures were in place.
"We had the whole home testing from the summer time and we had PCR tests on site which did make a difference," Hayden said.
"We had visibility of the infections in the homes at an early stage."
The care home boss said he believed the late lockdown in wave two had contributed towards the sheer scale of infection. "We had everything that we were missing in the early stage of wave one but the difference was lockdown came far too late," Hayden said.
"In wave one infections were lower but caution was high. In wave two the general public became fatigued and because there was less caution exercised, infections were higher. Regardless of our best endeavours, it has been difficult for everyone to manage these processes."
Having begun in September, the CEO said the group was only just beginning to come out of the second wave of the pandemic when we spoke in mid-April.
Having lost around 10% occupancy during the pandemic, Hayden said consumer confidence was slowly returning although he expected the process to take longer with private fee payers.
The group's percentage of private fee payers has fallen by around 5 percentage points during the pandemic to around 20%.
"I think private fee payers will come back but it will be a little bit later than the local authority market because there is demand," Hayden said.
The care home boss said Orchard's specialist dementia services would be key to restoring occupancy, noting that someone was diagnosed with the disease every four minutes.
"Dementia has not gone away during the pandemic," Hayden highlighted.
The CEO noted care home consultancy Carterwood's estimate that the private fee payer market would not begin to recover until the end of 2021. He highlighted the success of the vaccination programme as a key contributor to a return in confidence.
"The market is obviously dependent on confidence and that is about people feeling safe and one of the main factors in that is the vaccination programme," Hayden said.
The Orchard CEO said the group's vaccination programme had far exceeded his expectations, adding he expected to have all residents fully vaccinated by mid-May.
Speaking to CHP just before the government announced a five-week consultation on making COVID vaccinations mandatory for care home staff, Hayden said 80% of his staff and 96% of residents had received their first dose.
Additionally, 50% of residents and 30% of staff had received two doses as of mid-April.
Hayden said around 5% of staff had refused vaccination for a variety of reasons. "We are not enforcing vaccination," he stressed.
"We are trying to communicate the benefits as well as the risks involved. We have a very small number of people not doing it and some of them do have legitimate reasons.
"It's about education and supporting individuals who have reservations and concerns and trying to get them on board with us."
Hayden highlighted the group's strong record on care quality as a further key component in restoring occupancy with 90% of services rated Good, no Inadequate homes and a few Requires Improvement "on the brink of turning Good".
"We are starting to broaden our customer base," Hayden noted.
"We do offer a very good quality service and have identified demand in neighbouring authorities which we can provide support with."
In an additional move to boost progress towards recovery, the care home group has expanded its media and marketing team and appointed a new director of Business Development and Marketing.
Hayden said the group's dedicated marketing team were its "ambassadors" for communicating the good outcomes it was constantly achieving.
"Our care is all outcome based and person centred," Hayden noted.
Infection control remains first and forefront amongst consumer concerns about residential care as a result of the grievous death toll the sector has suffered during the pandemic.
Here too, Orchard has focused its efforts on providing the maximum assurances for customers.
"We have a very rigorous infection control process," Hayden explained.
"We have a detailed schedule that all sites complete and submit. We have our own internal governance process and infection control inspector who works alongside the CQC."
The group boasts a team of fully trained and equipped maintenance operatives who disinfect sites affected by outbreaks every two weeks.
"The disinfectant sanitises and kills bacteria in rooms and communal areas," Hayden told CHP.
"That has been a godsend and is a very reactive and proactive approach we are taking."
Orchard has also increased staffing levels to ensure infection control processes are maintained and is investing in a wide array of hand cleansing materials.
The Orchard chief highlighted the crucial role the Workforce Capacity Fund and Infection Control Find had played in recruiting additional staff to carry out testing and other infection control measures.
"It's an investment we would have made in the business anyway to keep people safe," Hayden added. "It all depends on the size of the service with regards to how much extra resource we put in."
The group launched a major recruitment drive targeting people outside the sector at the onset of
the pandemic.
"We offered them our career pathway and full training and development to bring them into the sector," Hayden noted.
From the start of the pandemic Orchard recruited almost 500 staff, with 62.5% of these still employed by the company.
"We saw turnover increase initially as people got a bit nervous about the pandemic and working in care," Hayden acknowledged.
"That has slowed down especially with the introduction of testing and the vaccination programme. It peaked at around 50% initially but has now come right down to the late 30s.
"People have wanted to come into care and make a difference and be part of the fight but obviously it is a very challenging job," Hayden explained.
"Until you do the job you don't know exactly what it entails."
Hayden said attracting people into the sector had been a greater challenge as the pandemic had worn on.
"We have seen a reduction in the number of people wanting to apply," Hayden said.
"This is starting to slightly reverse as confidence is restored."
The CEO said there had been a rise in applications during March but this was combined with an increase in leavers in the same month.
He added low morale as a result of the pandemic was a big challenge for the sector.
"People have given complete and utter dedication and commitment to the residents and their colleagues," he said. "They have worked in some extremely challenging circumstances. Obviously they have witnessed death. I know working in older peoples' services sadly you do see deaths but the amount of deaths we saw in some outbreaks was unprecedented."
The care home group works in partnership with Bupa on a mental health and wellbeing support programme for staff and is introducing its own wellbeing policy and agenda.
"Well-being support will continue to be vital once this pandemic is gone," Hayden stressed. "The virus might be gone in five months but the aftermath of this could last for some time longer. There could be some PTSD and other unknown impacts."
Hayden said Orchard had revised its Making a Difference staff recognition programme as a result of the pandemic. "It was only right to put this initiative on hold because there were so many people who needed to be recognised we couldn't whittle it down to individuals," Hayden explained.
"We now just do it by home. We do goody bags for every home to keep morale up and let them know we appreciate them."
The chief executive said every one of the group's homes had been overwhelmed with gifts from the local community during the pandemic.
"The community spirit supporting the elderly care sector has been incredible," Hayden said.
"We had Carol singers coming into car parks to sing for residents. We had the Fire Brigade come in and drop off outdoor gazebos. If there's one positive to take away from this whole pandemic it's how it has brought the community together."
The care home chief said care workers were not being recognised enough for the work they do.
"They are the lifeline of the NHS," he told us.
"If it wasn't for care services such as ours the NHS would be absolutely overwhelmed and would be in an even bigger crisis than it is now.
"Care is recognised as a poorly paid profession. We are aiming to move away from that. As a relatively medium sized business we are reliant on funding from the government. The government needs to recognise that an injection is needed from a financial perspective and reward our staff finally with the pay they deserve.
"My career started 25 years ago when I was a carer at university studying to be an engineer. I am a big believer in career pathways and grow your own. A lot of our deputies and managers have worked their way through the ranks. Career development opportunities need to be recognised. It's not just a job. There is a career in care. We need to recognise it as a true profession. These guys deliver some fantastic outcomes for some of the most wonderful people in our society."
Looking ahead, Hayden said services would be reliant on local government funding as emergency support from central government runs out.
Hayden noted that local authority fees for the new financial year were failing to match additional costs caused by the pandemic, however, with the group seeing hikes of typically between 1% and 4.5%.
"The inflation uplift LAs have been offering does not meet the additional costs we are seeing," Hayden noted.
"Local government needs to recognise that the sector needs a cash injection to sustain the market. The market is becoming unsustainable."
Turning to the role of the regulator, Hayden broadly welcomed the changes the CQC had made during the pandemic. "Initially, the CQC as all of us were unprepared," he said.
"Their involvement was quite limited at the beginning of wave one. We saw that increase towards the end of wave one and onwards."
Hayden said Orchard was 100% compliant with infection control inspections carried out by the regulator as well as being fully compliant with the group's internal inspections. The care home boss said the more targeted inspection regime introduced by the regulator at the end of last year made sense in the current environment. While noting it was still early days, Hayden said the CQC's more intelligence and data based approach to inspection appeared a good approach.
Looking longer term, Hayden said he was "not overly optimistic" about the government's much heralded social care reforms.
"If reforms come next year I will be excited to see them but I am not overly optimistic about that," Hayden said.
"Hopefully this pandemic will push through the reforms that are urgently needed. The sector needs baling out and support. It needs recognition. It is massively underfunded.
"We need to recognise the commitment and sacrifices that individuals have made in the care sector and in the NHS. These staff members have all gone way above and beyond. I can't offer my gratitude enough for what those guys are doing day in, day out to keep our people safe.
"Now is the time for the government to stop and look at the sector. We have to recognise that we can't continue like this. We have got to see some fundamental changes and reforms to the social care sector as a whole. The sector was in crisis pre-COVID and this has been exacerbated by
the pandemic.
"The social care market is viable and will become sustainable again. The pace of the recovery is all dependent on the approach from government."
Hayden said Orchard would continue to invest in technology as it looked to continue its recovery.
"We are a huge supporter of technology," Hayden highlighted. "We are targeting being 90% paperless."
The care group has introduced Person Centred Software's Mobile Care Monitoring system and an electronic medication management system and has also developed an in-house governance digital dashboard.
In the area of dementia, Orchard has also introduced the revolutionary PainChek facial analysis pain assessment system.
"We are one of the largest care home providers to use PainChek," Hayden noted.
"It gives us great detail in how we recognise and manage pain in those unable to verbalise it."
The care group plans to roll out the system across all its homes this year.
"The feedback is good and is already delivering improved resident outcomes," Hayden said.
"It enhances people's quality of life. We are one of the most advanced care organisations in terms of technology as long as it adds value and enriches lives."
While noting the group was also an early adopter of CCTV, Hayden added: "We have to proritise our recovery and our dementia strategy. It's about prioritising what is going to make the biggest difference to our residents' lives."
Hayden said the focus for the group would be consolidating and stabilising its homes as it comes out of the pandemic.
He took on the restructuring of the group following his appointment in September 2019.
This entailed the repositioning of its portfolio as a freehold business so that profits could be reinvested into operations.
As part of this process, Hayden oversaw the sale of seven leasehold services as well as some
freehold homes.
Following the completion of its restructuring programme in November, the group's portfolio now consists of 24 care homes that support up to 1,300 residents.
"We are now looking forward to getting back to maturity with those homes and to a sustainable position," Hayden noted.
The care home chief said the current financial year was about recovery for the group.
"We have got to get our core businesses back to their base line and come through this pandemic," Hayden said. "Our immediate priority is sustainability. Beyond that we will have to see.
"Our overall aim is to get our homes up to 92-94% occupancy and then see where the market sits and how we can evolve the business."
A key part of the group's recovery plan will be to grow its private customer base to 30% having seen it drop from the mid-20s to 20% during the pandemic.
Hayden said Orchard's three core objectives remain to deliver high quality services for residents and families; to attract and retain high quality staff; and be the employer
of choice.