Managing director Fiona Hale tells CHP there has never been a greater need for the time and cost saving benefits offered by care home management software business, CoolCare.
Leading care home management software provider CoolCare was launched in the 1990s by LNT Group chairman and founder, Lawrence Tomlinson.
"Lawrence was running his own care homes and he wanted to find ways to save time and maximise efficiency," Fiona told CHP.
Story continues below
Advertisement
"He wrote his own bit of software for his own care home group but over the years he saw that it was saving him time and money and, therefore, could help others in the market and it's grown from there."
Fiona first became involved in the business after having worked in a variety positions at LNT Group for seven years.
"I had worked with the business previously but became most actively involved in CoolCare in 2017," she recalled.
"It was meant to be just a little project as part of my wider role in the group. I was overseeing occupancy at the time for Ideal Carehomes and was working closely with the Board of Directors on improving operations so they said 'can you just keep an eye on CoolCare?'
"I completely fell in love with it and could immediately see what a great product it was. It just needed a bit of energy injecting into it to get the message out to the wider market."
Having taken the role of commercial director, Fiona and business partner, Leigh Ellis, mounted a management buy-in of CoolCare in 2018.
"We were both just so passionate about the business," Fiona explained. "We loved it and wanted to be part of its future and LNT recognised that. CoolCare needed its own identity and needed to flourish as a software business. Giving us more control executively over how the business was run just helped it to grow alongside the group and develop itself as a stand-alone software solution."
Fiona said being part of the LNT Group provided many benefits.
"The main benefit for us is coming from a culture of operating and building care homes," she said.
"We are care home specialists first and software specialists second. Even within CoolCare, we actively retain that mindset.
"It's all about understanding the care home environment, understanding what good operations look like and then developing the software to enable that.
"It's not the case that we have a load of developers and we tell them we want the software to do 'x'. Our developers spend time in care homes so they actually understand what it's like for an administrator sitting at a computer doing these tasks and how they work. That real-life understanding helps the whole team to collaborate effectively so we can best design the solution and make it exceptionally easy and intuitive for them to use."
Having fellow group member, Ideal Carehomes, as a customer gives CoolCare the opportunity to test solutions very quickly to see if they work.
"That's the kind of exposure that not a lot of other software companies get," Fiona said. "They're often software companies developing something for a market which they're not actively involved in, so they don't see the benefits and the impacts their product could have.
"It gives us a full understanding as well as holding us closely to account. We, especially, can't have something go wrong as our investor is using our product."
Having started out life as Cool Blue in around 1998, the software has evolved over the years with its last complete rewrite, CoolCare4, coming in 2018.
CoolCare4 is a specialist product focused on the administrative side of running a care home. The product is designed for head office use ranging from administrators to chief executives.
"The key thing for us is that we encourage the data to be accurately inputted," Fiona explained. "The design of the software then prompts the adoption of good practice in terms of keeping on top of data keeping records so that when it comes to your senior directors and managers checking on live accurate data, there shouldn't be excessive amounts of exceptional reporting.
"Probably one of the biggest frustrations for operators is that data and software is only as good as it is used.  That's why having that design aspect where you're thinking hard about how it's used, and encouraging people to ensure that data is input in an accurate way, is very important. The key thing for us is bringing to the user's attention anything that needs correcting. Rather than having to go off and report after the fact to see what was wrong, we prefer to tell you right there and then.
"We've refined our features down to look purely at those aspects that really support good business performance.
"We've taken our knowledge from operating care homes and what good processes are meant to look like. We've focused our development on everything from occupancy management and converting enquiries into residents' admissions, to keeping on top of your invoicing and
expected revenues.
"On the other side, it's around managing staffing costs by keeping on top of your time sheets, rota management and the compliance elements around staffing such as training records, supervisions and appraisals, visas, DBS checks and the administrative side of your home."
A staff portal recently added to the system has proved particularly popular.
"The portal enables staff to access information around their hours and their rotas so they can see what they're due to work, what hours have gone on the timesheet, and can book holidays and offer to cover shifts," Fiona explained.
"Our customers love it. We hear how much it is helping and reducing the amount of time spent on admin. One manager told us before they had the portal they would have people coming in every day and asking them what hours they were going to be paid for in the last week and whether they had their hours on their time sheet. Then on payday there would be a queue out their door. As soon as they started using the portal, they were saving hours and hours each week purely by just not having to answer queries."
CoolCare listens carefully to its customers so that it can continue to adapt its product to suit their needs with new software updates released every two weeks.
"We look at how our customers are using the system to see how we can improve it and also look at what the needs of the market are so we can plan our developments based on the changing landscape," Fiona noted.
"Things change quite quickly in social care so we prioritise in fairly short time frames. We've got a rough plan of where we want to go but we will switch that around to make sure that whatever we're developing and releasing adds most value at that point in time."
Fiona said there had been a marked increase in care homes using CoolCare during the pandemic. The business currently has around 1,000 customers.
"That number is constantly growing and we expect to be double that in the next few years," she said.
CoolCare's customers range from small to large, corporate providers.
"We've designed the software so that it's fully scalable and can work for one care home or a hundred," Fiona said.
In terms of care type, the software has been designed for the full breadth of residential care from low-dependency, retirement right through to nursing.
Implementation of the system is simple with CoolCare accessible from any device.
"There's not a big infrastructure project to roll it out," Fiona explained.
"We have installed it in a matter of hours where people have wanted to get it straight on board and start using it across their homes immediately. Others prefer a more gradual roll out and a steady change to process, which may span several months. It's led by how the operator wants to implement it and how much of the software they want to use in any one go. Our team work with what is right for the operator and their processes, to make sure it is well implemented."
A full support services team manages queries and provides training.
"They make sure that our customers are meeting their business goals," Fiona said.
"It's something we take great pride in. We think it's a very important part of what we do to help our customers get the best value out of the product. It's pleasing for us that our customers recognise it's something we do extremely well and it's something that our surveys always show.
"Whenever someone calls our support team we ask them how the call went and that's published on reviews.co.uk. We are averaging customer satisfaction scores of around 4.8 out of 5."
Fiona said a modicum of training was required to get up and running with the system.
"It's very intuitive," she explained. "We've got lots of video guides which explain how to get things set up. We always do some upfront training when customers get on board and then we revisit them a few months later once they've got used to it. We then go a little bit further in depth into additional features that they may not have used or look at what else they can get out of the system."
All training is currently given online as a result of the pandemic.
"We were a little bit nervous about that because we knew providers like the comfort of face to face training but it's actually proved to be really successful because you can deliver short, sharp sessions more frequently, which is actually often better for the end user," Fiona noted.
The managing director said CoolCare had been a vital means of support for providers during the pandemic by enabling remote working.
"CoolCare's easy accessibility remotely has been key by enabling providers to move quickly to not having a head office function and reducing visits to care homes and that not impacting on their processes," Fiona said.
"The fact that you just get onto CoolCare and don't need to install anything makes that very simple.  It also helps where you have changes in staff members so you know if someone is going to be absent because they have got to self-isolate of if they are feeling unwell.
"You have a central log of all that information that anybody can access. More generally, the software has just been very helpful in giving that oversight and the ability to keep operating whilst maintaining business performance during COVID-19."
The software supplier was among the first to offer additional support measures to providers following the onset of the pandemic by adding a tool enabling customers to report whether staff or residents had COVID symptoms within two weeks of lockdown, with data shared with NHS Digital.
Additionally, CoolCare offered a basic version of its software free to providers who had been caught short by the crisis and did not have any digital record keeping facility at head office level.
"We had a good uptake of people coming on board to take up remote working," Fiona said.
"We've seen people who had been sitting on the fence regarding digital take-up recognising that they need to take the leap forward. It's been an acceleration of something that we could already see happening. If you look back over the last couple of years, tech adoption has definitely started
to accelerate."
Features such as CoolCare's occupancy management system have proved particularly helpful during the pandemic when providers have typically seen occupancy levels drop from the upper 90s to 80%.
"Our occupancy management system enables providers to boost revenues by taking their initial enquiry and bringing that through to an admission in the most seamless and quickest way possible," Fiona observed.
"It helps providers prioritise the type of enquiry they want to convert. For example, if you have a KPI around private payers then you want to see what level of enquiries you have there and prioritise those for admission.
"You also want to be able to manage those enquiries incredibly easily with a very simple step-by-step process that you can guarantee that if you do 'x-y-z' you're going to convert that. That's what our software supports.
"It makes it very simple and gives great transparency for those who are looking after the enquiry and those who are monitoring the data.
"It also gives them great insight because they have live data around the number of enquiries and what those people are looking for.  So during COVID, for example, our customers have been able to look through the logged comments to see what kind of pushback they are getting and what concerns relatives are showing and use that to train staff and guide their policies to see how they can give more confidence to prospective residents.
"That brings the process all the way through to residents being admitted and living in the home and being invoiced, which is where we start to help with accurate data capture and making sure our customers are invoicing accurately."
With staffing accounting for 75% of care home costs, CoolCare also plays a key role in keeping workforce overheads low.
The system provides automatic timesheets that log staff as soon as they clock in so that management do not need to track who is coming in and out of the home.
"Tracking staff can be extremely difficult when you have 60-70 members of staff working on different shift patterns," Fiona said.
"The system will make automatic adjustments based on the settings an administrator puts in. It will look at what they should have worked and take time off when people have been away from their shift to prevent overspend.
"Providers using this functionality are making potential savings of around £4.69 per shift, which is pretty significant when you add that up over a full staff group. I was speaking with a customer recently who said the hardware paid for itself within a couple of months just through what they were saving on their payroll each month."
CoolCare's agency monitoring tool also helps providers keep tabs on how much their agency spend is. It's a rota system that helps customers get clear foresight of where shift vacancies will be so they can plan more effectively and stay in contact with staff and avoid last minute agency use.
By tracking staff movement, providers are also better able to avoid the risk of cross infection between homes during the pandemic.
As well as cost savings, CoolCare helps boost operator performance by providing precious time savings.
"Staff are very busy, and they're very skilled, so you want them to be spending their time running their care home and making it a great place for residents to live in," Fiona stressed.
"You don't want staff spending hours and hours running invoicing. You want them to be able to do this as quickly as possible so that they can focus on their residents.
"Our combination of cost and time savings is certainly extremely persuasive. CoolCare's features also gives a lot of comfort in terms of compliance too because staff are able to monitor key metrics – even when working remotely.
"That's a key thing that digitalisation brings you because it's not just the fact that it provides all this data, you can access this data anywhere and make sure your home is compliant.
"Whether you're looking at administration, supervision and appraisals, training records or DBS checks, you can do it all from you own home at any time of the day.
"That kind of confidence that your operations are being well looked after when you are not physically in the building is exceedingly important in the current environment."
Fiona said recognition from NHS Digital, the Department of Health and Social Care, and the CQC had been "especially helpful" in making the case for digitalisation in care.
"You can see that over the next few years they will be pushing for the sector to digitalise their processes and record keeping," Fiona predicted.
"I think that's helpful in giving providers the confidence that they're making the right step. Providers are beginning to see the need to do it promptly and get digital embedded in their way of working in case they get hit by another pandemic wave or difficult period."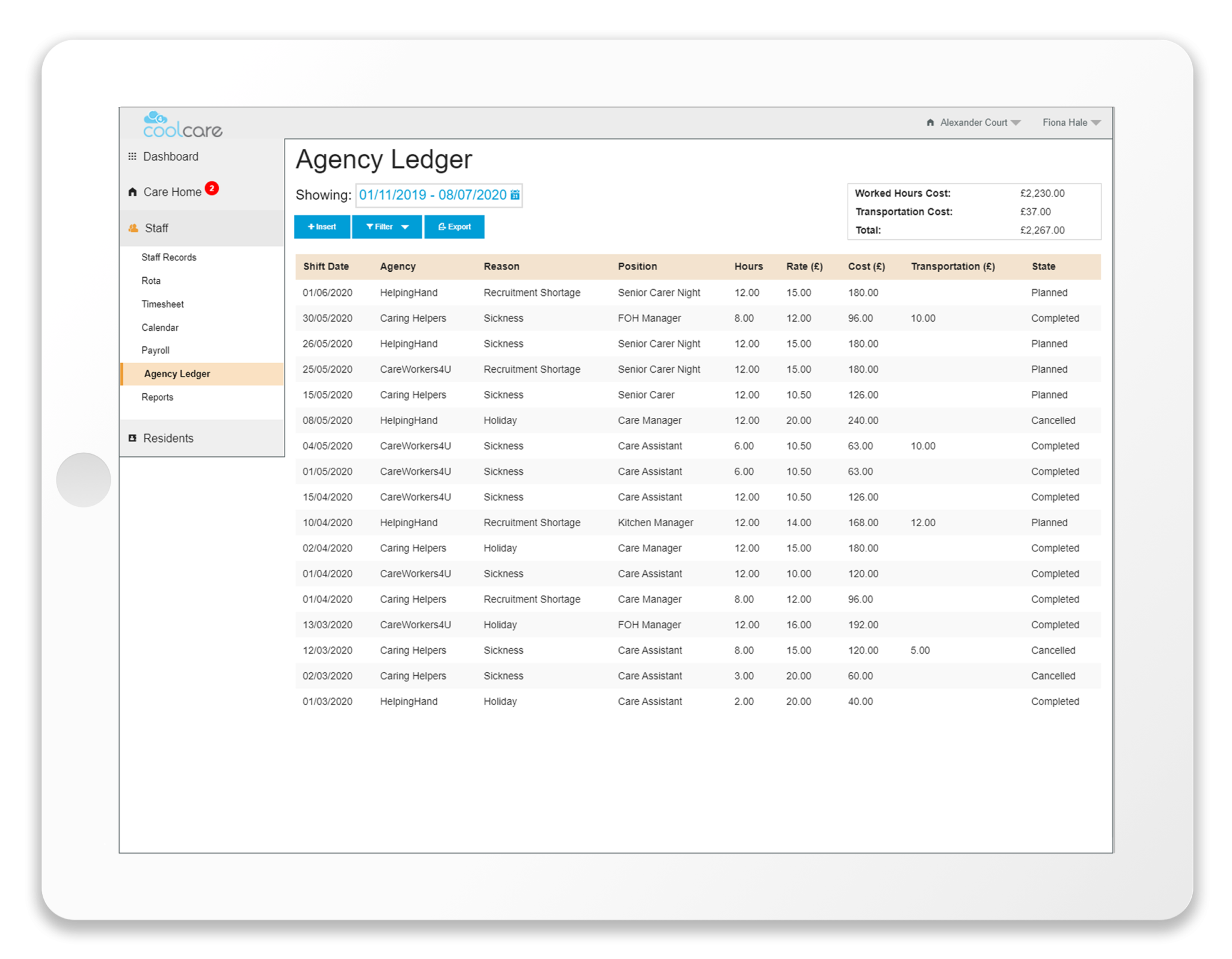 Fiona identified that changing working patterns, which have been accelerated by the pandemic, would be a key driver of digitalisation going ahead.
"There's a much bigger recognition of the value of software generally," Fiona said.
"The value of having the efficiency it brings, in terms of saving time and money, doesn't need explaining anymore. Having these systems especially helps at a time when providers need to be able to interoperate with other parts of the sector and with other sectors."
CoolCare has also been a market leader in helping create a digital ecosystem for providers through developing partnerships with other tech suppliers.
"We're very open to working with other digital organisations," Fiona told us.
"It's part of our core strategy. We've focused on the administrative side of running a care home because that's where we're specialists and we want to create a best-in-class system around managing business operations.
"We feel that it's in the best interests of the sector that operators are able to choose the best-in-class system that works for them in terms of care planning, eMAR and e-learning. They can then create an ecosystem of software that fits their needs rather than trying to have a one-size-fits-all approach."
It was in such a spirit that CoolCare formed a partnership with leading digital care planning system provider Person Centred Software in March this year.
"We work with Person Centred Software because they offer great quality care planning," Fiona noted.
Other notable partnerships have been formed with digital care planners, Nourish Care, and eMAR system provider, MED e-care, while discussions are under way with specialists in other areas.
"In the longer term, we'll want to interoperate across all parts of the care sector where there is software utilised in a care home," Fiona said.
As a leading member of CASPA, CoolCare is also engaging with NHS Digital to develop digital adoption at a sector level.
Looking long term, Fiona said digital adoption was certain to accelerate in care homes.
"There's a national push towards that, which I believe is positive as once providers start adopting software, they'll see the benefit and roll that out into different parts of their operation," Fiona predicted.
The managing director said CoolCare would play a pivotal role in sector digitalisation and ensuring the future sustainability of operators in challenging times.
"We know that the sector has tight margins and, therefore, business performance is key for operators," she observed.
"Our product really helps operators reduce costs, maximise their revenues and boost overall business performance and profits."
The CoolCare managing director also pointed out that digital adoption could be a key factor in helping operators secure investment.
"We know that investors looks for providers with good software," she noted.
"It gives them a lot of confidence where they can see live data so they have their fingers on the pulse in terms of business performance and they're able to quickly react to what's going on in a care home. That too will play an important part in encouraging software adoption."
It's a persuasive argument and one that increasing numbers of operators looks sure to follow in the months and years ahead.