Care UK has more Outstanding homes than any other provider (18). Operations Director for the north region, Geoff Edwards shares the provider's approaches to quality with CHP.
CHP: On first impressions your Outstanding care homes feel very different from one another. What common threads run through them all?
GE: We seek to find a balance between consistency in terms of quality and standards but without stifling the need for care to reflect the backgrounds and interests of the residents whose home it is. So, whether it's menu planning or deciding what pets the home would like to adopt, residents have a big say in what they would like to see.
Story continues below
Advertisement
The gardens and décor also reflect the local geography and the interests of residents. So, for example, in Manor Lodge in Chelmsford, there are many keen gardeners and we have lots of raised beds. In Broadwater Lodge, several residents have links to agriculture so the home has farm animals in its grounds. Our Bristol home, Trymview, has soft furnishings and ornaments that celebrate the city's world-famous Balloon Fiesta.
The common thread is our way of working and brand standards – all our home managers follow our detailed standards of service delivery across various aspects of the home such as hygiene or the way meals are served. Policies and processes are set from our support centre by people who have genuine experience and empathy with the practicalities of running a home coupled with the headspace to interpret new guidance from regulators, government and other bodies.
CHP: What are the Care UK values and how do they drive outstanding practice?
GE: At our most fundamental level we set out to fulfil lives – the lives of those we are privileged to support and those who choose to work for us. We all share the same values – passionate, teamwork and caring – and we see these delivered every day by our teams in a wide range of ways. We don't impose a bland corporate mission statement on each of our home's teams; we ask them to come up with their vision for how they live those three values at a very practical level. That helps to develop a common sense of ownership and purpose in delivering exceptional care.
CHP: How do you embed the same level of best practice across your 124 care homes?
GE: As well as our shared policies and processes, we have 15 regional directors, each of whom is responsible for a range of homes. They play a fundamental role in ensuring that homes are supported to deliver consistent standards of everything from infection control to recruitment to entertainment.
We also have a team of quality managers and health and safety experts who constantly visit homes, in person when possible but remotely more recently, to help ensure standards are met and identify any areas where additional training or scrutiny is required.
CHP: How do standardised processes provide a platform for outstanding care?
GE: I believe standardised processes are like the foundations of a building. They provide stability and the basis for everything else to flourish. Once these are in place, the individual teams can then build on this stability to provide the things that really make the different between ordinary and excellence. Compassion, creativity, responsiveness and a sense of joy and can-do is what really makes our person-centred care stand out.
CHP: How do you strive to bring all your care homes up to Outstanding?
Well, apart from the processes and input from regional and quality managers already mentioned, we have a very innovative programme which we call 'Good to Great'.
This programme sees home teams, which are consistently rated as 'Good' by the CQC or the Care Inspectorate for our Scottish homes, supported to achieve 'Outstanding' or equivalent.
They are coached in how to produce the necessary evidence of their already-outstanding work and mentored to address any weaker areas. The programme also gives networking and support opportunities, through the group's monthly phone calls and regular regional meetings, in which we share learning from good, as well as not so good, experiences.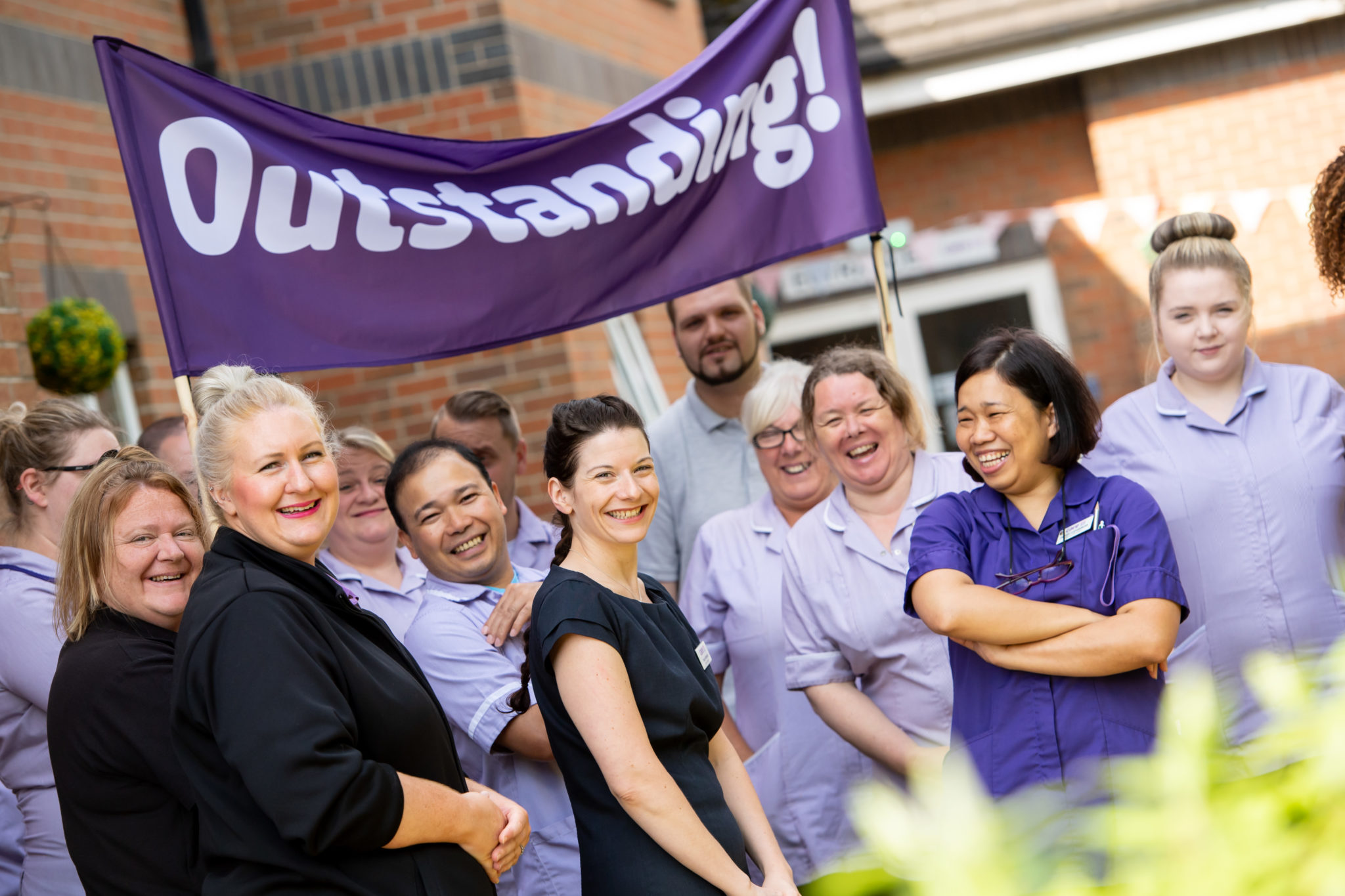 CHP: How key is the care home manager to creating an outstanding care culture?
GE: Absolutely critical. Our managers are vital in leading their team to deliver great care. In recent years we have developed a strong 'grow your own' approach where we run development programmes for team leaders, clinical leads and deputy managers who aspire to become home managers.
Each year, a cohort undertakes a comprehensive course, devised and delivered in house, to equip them with essential leadership skills. Currently, 108 colleagues are enrolled on one of our programmes, with 30 taking their level 5 care leadership qualifications.
Not only does this approach mean new managers start knowing our policies and processes, but also we know they share our values and vision as they've climbed our career ladder.
CHP: How important is it to give the care home manager free rein to develop their own distinctive culture within their homes?
GE: Within the framework of standardised policies on matters like infection control or health and safety, we encourage managers to take our values and personalise them to meet the needs and tastes of the residents living in the home. This might reflect the ethnic backgrounds of residents or their interests or abilities.  For example, in a home in central London, the dining and décor will reflect the mixed heritage of the people who live and work there in a quite different way to, say, a home in a market town in leafy Oxfordshire.
CHP: What ingredients make an outstanding care home manager? 
GE: Determination, leadership, charisma, passion, incredible communication skills and knowing his or her own blind spots and being bold enough to seek help with those aspects.
CHP: How does your leadership team help your care home staff provide outstanding care?
GE: We have a dedicated band of regional directors who each support a group of homes in one region. They help homes deliver outstanding care with practical support, coaching and advice. The exec team – including our CEO Andrew Knight – make sure that our processes are there to help not hinder home teams. I think we are all very responsive to issues and, pre-pandemic, we all spent a great deal of time in the homes listening and learning as well as leading.
CHP: How have you developed an outstanding care workforce? How do you provide a career pathway for your staff through training and development?
Our vision is to provide an inclusive coaching culture that empowers all colleagues to develop a fulfilling career.
Through talent reviews and employee surveys our colleagues told us that line management and career progression meant the most to them. In response, we relaunched our leadership development programmes, developed train the trainer programmes, created internal leadership models and clearer career pathways. All of this is moving us away from a task orientated culture to a more engaged workforce where colleagues are reflective of their practice and take responsibility for their learning journey.
More than 100 home managers have been on our 'Leading with Care' programme. A new 'train the trainer' programme is also empowering 30 senior managers to facilitate training and embed our leadership models.
Meanwhile, our sector-leading apprenticeship programme has this year enabled 750 colleagues at all levels to develop. We were the first care provider to launch a Chef Academy apprenticeship programme to develop kitchen assistants and retain learners through their career pathway.
CHP: How important is having a stable workforce to establishing an outstanding culture and how do you achieve this?
GE: Clearly it's very important. Our employees are our greatest asset and Outstanding ratings start with recruiting and developing the right people. Over the past few years we've really raised our game on how we search, attract and retain the very best candidates to work for us; bringing the majority of our recruitment in house and promoting internally wherever possible.
Also, I'm very pleased that our refreshed approach to development and engagement, which enhanced how we welcome new recruits, has improved our 90-day retention by 9% year-on-year.
CHP: How do you motivate staff to provide outstanding care?
GE: Apart from our development opportunities, we have a strong ethos of recognising, rewarding and thanking those who achieve remarkable things. As well as in internal award scheme, we run a scheme that we call the 'Going The Extra Mile' or GEM awards. Fellow colleagues, residents, their relatives and visiting professionals are invited to nominate team members that they feel have done something amazing that really brings to life our values of caring, passionate and teamwork. Each month, in every home and in our central support teams, GEM award winners are selected and given a certificate and a small reward.
CHP: How important is innovation in developing an outstanding care culture? Could you provide some examples?
GE: I think Care UK is ahead of the curve on all sorts of innovation. Our partnership with the University of Worcester has ensured the latest academic evidence around dementia support is built into every aspect of how we work. This has included dementia training for all our teams. To deliver care to those approaching the end of their dementia journey, we are rolling out Namaste Care, which brings comfort and pleasure to people with advanced dementia through sensory stimulation. It increases the length of time colleagues spend engaging and connecting with residents and provides for the sensory and emotional needs of these residents who can no longer engage in other activities.