Recently appointed CEO Sam Monaghan says he wants MHA – often known as Methodist Homes – to be a care provider that helps people be fully themselves, embracing diversity. 
Tell us about your background
Initially I trained as a graphic designer, but I found the voluntary work I was doing with young people more fulfilling, so pursued a career in social work. At the outset I worked across all ages, progressing into more senior management roles within three local authorities in the Midlands. I then became deputy director in the Midlands for Action for Children, which is MHA's sister charity in the Methodist Church, before joining Barnardo's, initially as their Midlands Director, then as the charity's national operational director for children's services, prior to joining MHA.
Story continues below
Advertisement
What attracted you to MHA?
Whilst at Barnardo's, I had the opportunity to take on the CEO role on a temporary basis. It confirmed that being a CEO was a role I wanted to explore, but I knew it would need to be in a values driven organisation, and one that I felt made a genuine difference. Then the opportunity came up at MHA.
Part of the recruitment process was a visit to one of MHA's care homes. I was so impressed with the quality of care, its holistic approach and the environment that I thought 'this is somewhere where I want to be a part of the journey'. There are huge similarities between working in the child care and older people's sectors. You're fundamentally ensuring quality of care, safety and that those you serve inform and influence the services you deliver. In both sectors it is the staff who are crucial to that delivery. So it hasn't felt a huge jump; rather a shift along the age spectrum. Working in the third sector already, alongside public, voluntary and commercial sector organisations, the environment is also very familiar.
Those partnerships are crucial to providing holistic care. You need to be working closely not only with people who use your service, their families and friends, but also with all the agencies that are providing support to them.
Have you always been attracted to working in the third sector?
My experience of working in the third, as opposed to the public sector, is that you can better determine the nature of the work you undertake and that it can be a somewhat more creative environment as a consequence.
There's also the opportunity to work with people throughout their journey of care or support – in MHA's case that's on their journey through later life, whether that's out in the community, retirement living or in our care homes. We also have the opportunity to make sure older people's voices are heard and influence public understanding and service delivery. There are clearly financial constraints within which we work, along with the same regulatory frameworks as the rest of the sector, but the additional resources we receive as a charity, whether through fundraising or our volunteers, do promote innovation and the capacity to enhance services. In MHA that is particularly through our chaplaincy and music therapy services.
You have a very good record as an organisation in terms of achieving CQC Good and Outstanding. Do you think being not for profit makes you more compatible with providing high quality care?
At MHA, we are explicit about how our approach to holistic care supports the work we do on quality. Underpinned by our values, it is a focus upon the whole person, mind, body and spirit – for those of faith and none. In that context, the additional services of chaplaincy and music therapy, along with the creativity of our staff and volunteers, enables quality to be part of the culture and practice in our homes.
We seek to make sure our staff and volunteers feel they are supported so they can support others. We also know that the quality of our homes is crucially dependent on our managers and the leadership they provide, so it is vital that we invest in them.
You are three months into your role. Where are you in terms of getting to know the business?
I have managed to get to see almost 50 of our services in the last three months, which is about a quarter of our care homes, retirement living communities and Live at Home schemes. It's been a great opportunity to meet as many people as I can and the different groups of people we work with. I have also met many of our Chaplains and our music therapists and seen first-hand the joy they bring to the lives of our residents.
In addition, I've met my peers within the care sector – I am on the Board of Care England and also ARCO – the Associated Retirement Community Operators.  I've also been fortunate to meet with the Minister of State for Health and Social Care to explore how we meet the challenges all of us in the care sector are facing.
We have seen a lot of speculation over a change in private equity ownership of the leading corporate providers this year. Do you think that your ownership model enables you to take a longer term perspective?
I wouldn't understate the pressures that all providers are under within the continuing context of austerity and ensuring a viable financial model going forward. At MHA we do, however, have the benefit that all our income from fees, grants and donations is invested directly into our services, without shareholder pressure. With our Board, we can, therefore, consider the longer view and how our homes link with other parts of our work so that they can be mutually reinforcing. For example, siting our homes, retirement living schemes and community services in closer proximity, offering a continuum of care and the potential for those in later life to move with more confidence between services as there need increases.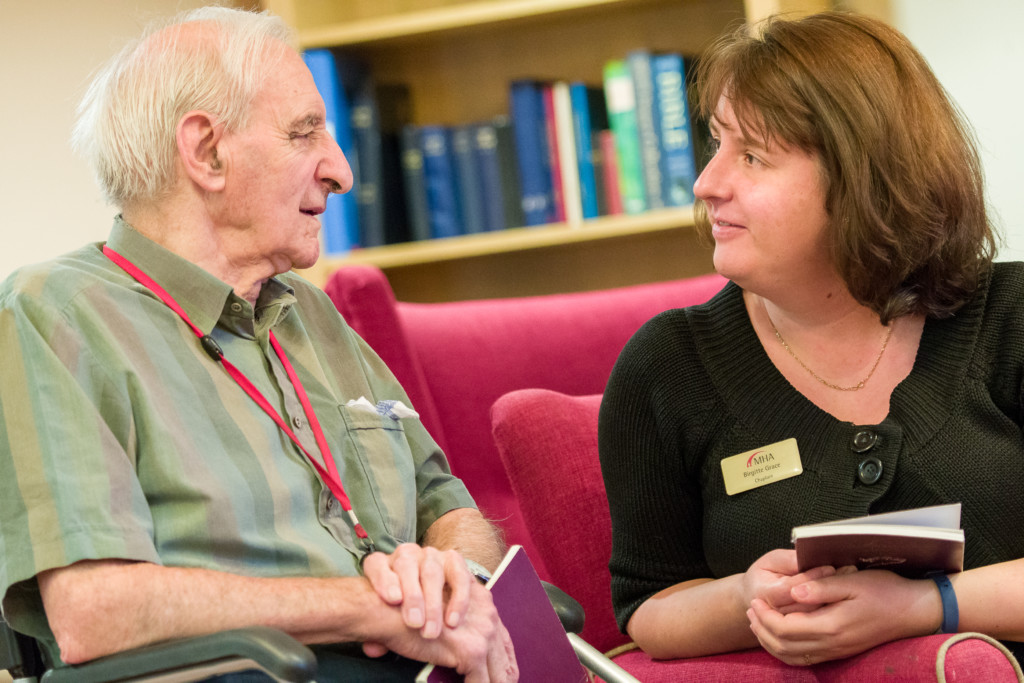 What are you looking at in your strategy review?
The current ten-year strategy for MHA was put in place in 2015, so now is an ideal time to review our journey to date, and whether it meets the needs and aspirations of those we serve, that it's engaging for our staff, as well as our stakeholders.
We have obviously grown over our 75 years and we need to look at how our services now fit together and the narrative for MHA today.
We want to ensure that our homes and services reflect their local communities, how we can bring the outside in and utilise the capability of the people we work with for the greater benefit of society. Our homes, their residents and staff, need to be representative of the ethnicity of their communities, their spirituality and ensuring people who are LGBT feel that they can be truly themselves. I want to ensure that the richness and entirety of the lives of those in our homes is fully valued and expressed.
In terms of our holistic approach to care, I'm proud of our investment in music therapy and keen to see how we can develop that further. We are also one of the few organisations to employ Chaplains in all our homes. This means we are able to look at the spirit as well as the body and the mind for people who are at points of real transition and change and who may be experiencing great uncertainty and loss. For many people faith is an important element and the uncertainty of life and mortality are issues that bring those thoughts to mind.
One of our strategic objectives is also to strengthen our historic relationship with the Methodist Church, because of the benefits that can bring to us. MHA grew out of the Methodist Church and we are still linked into many churches that are a valuable source of support in the work we do. But we also want to build relationships with other churches and faith groups.
We need to find multiple ways to encourage people to remain active and in the present so they access their own memories and history. We know that makes for a richer environment for them and also for the communities that they find themselves part of. Things such as music therapy are really good at promoting conversations about who people are and the lives they have lived. We seek to see everybody as an individual with all the legacy of experience that they bring.
Older people benefit society and society benefits from them if they are connected with the wider community. There is so much that they can offer, especially to other generations. We have got play groups and nurseries going into some of our homes and have started exploring with Action for Children on how we can build our intergenerational work going forward.
If you can make those cross generational links it enriches everybody's lives. It also avoids the feeling that once you cross the doorway of a care home that it is another world. These things mean people feel connected to their local community and the wider world. Our chaplains help with crossing those boundaries as well. One of the issues we are looking at as part of our strategy review is how we demonstrate we are part of those communities and how we yield the most from that for everybody.
Then there are the pressures of austerity and the inevitable implications for how you provide your services, not only in terms of value for money, but as efficiently as you possibly can whilst still preserving the quality of care. There's also the ongoing development of technology and trying to bring that into our homes as well as in our systems and head office. Technology provides great opportunities but can also entail huge investment not just in terms of cash but also in training and engaging with staff.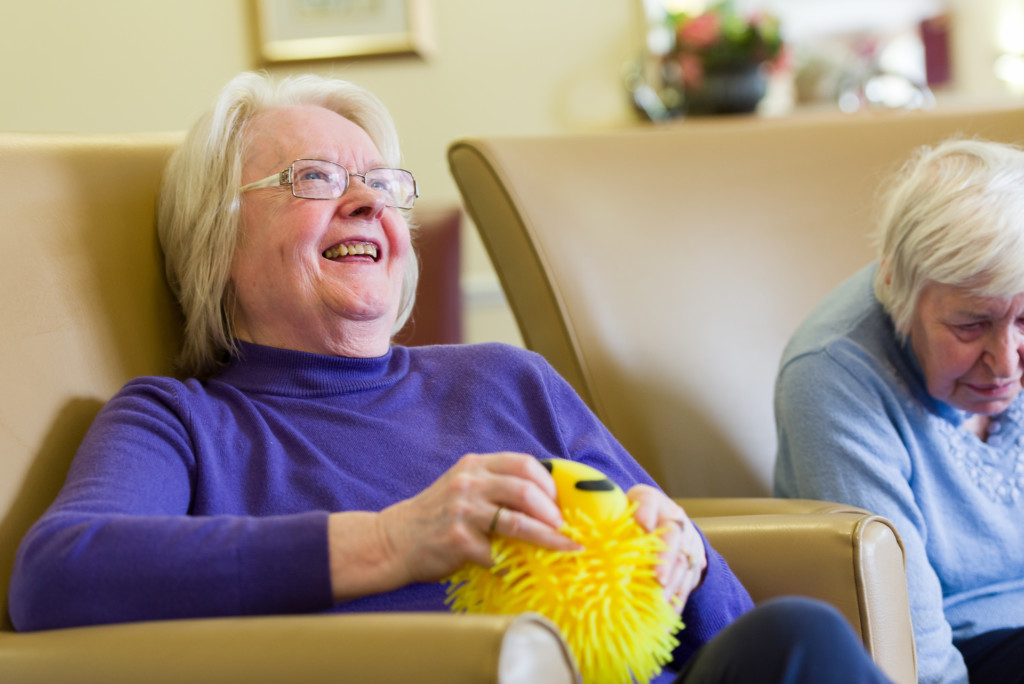 Are there any technologies you are looking to introduce?
All of our homes have Wi-Fi in them for residents to use as well as for the running of the home. We have also supported some residents to use Skype so they can talk with family and friends across the country and the world.
We are exploring the electronic administration of medication and are piloting an approach to simplify the supply chain from the pharmacy to the home through to the distribution to patients. We want the process to be less time consuming and maximise reliability.
Electronic care planning is something we are looking into but the pressures of working as a care provider in this sector is how you will bring something like that into 90 care homes. It's something that in the medium term we are clearly going to want to explore.
How are you seeking to tackle the sector's recruitment challenges?
This year we became a Real Living Wage provider right across all our staff, ensuring we are paying our staff fairly for the work they do and supporting recruitment and retention. We have also increased the salaries of our nurses as we recognise that is a particularly difficult cohort to recruit into the social care sector. We introduced the rise from April this year and we are starting to see more applications. It is certainly putting us out there more as a potential employer.
When I spoke with the Minister for Health and Social Care we discussed the need to explore encouraging people to move into the sector as a career development. Part of it is looking at what different support we can offer, for example, care practitioners who would work alongside our nurses. We are looking at a whole range of strategies but there does need to be something done nationally to better promote health and social care as an advantageous option for people in the nursing profession.
What is your level of staff turnover?
We are at around 27% and that figure has been fairly static for a while. The problem is mainly with people who come into the profession and decide it's not for them after 12 or 18 months. Beyond that we tend to get increasingly strong retention.
Working in the care sector is a very difficult and challenging job. When I go around our homes, I see not only the quality of care but the quality of the attitude towards our residents, the care and attention given by carers, their level of patience and kindness. But it is easy to see why it is not for everyone.  What we need to do is encourage people who work for us to see if they have friends or family who might want to work for us. People coming to us that way seem to stay with us much longer. In some homes where they had a number of great applicants but not that many vacancies, they start people off volunteering. When vacancies then appear, people who already know the home or scheme have found that care work is for them and they are then far more engaged when they start with us.
Have you seen any Brexit effect on your foreign workforce?
We have a greater diversity of workers from different ethnic backgrounds as you would expect in the larger cities. What we have seen, particularly in London, is lower staff turnover. We haven't seen a Brexit impact as yet. That isn't to say that it's not a risk that we aren't aware of going forward.
Have you seen more difficulties in recruiting in the affluent parts of the country?
Some of our homes with the lowest turnover are in the south east. What I have observed there is a really strong culture and leadership which values every member of that team. If people feel happy where they are working, they feel valued and that they are making a difference, it helps them want to stay with us.
How do you seek to attract and retain good managers?
Like other providers we do experience problems recruiting people at managerial level. That's where a lot of competition for staff is. We work to make sure our managers feel supported and valued and they feel that we have systems in place that enable them to do their job as effectively as they can. All our homes now have administrative managers, so the care home manager can focus on managing and leading the home. In addition, we are launching a development programme that will look at how we develop our managers as leaders and in their personal career development.
We also support people to develop their careers with us. We have a number of people who started as a care worker who have done their management qualifications.
How active is your apprenticeship programme?
Apprenticeships in the care sector are something which is proving to be problematic, because they require a degree of offsite learning, which is difficult when homes operate shift patterns and are on tight staffing budgets. This is something we have also spoken to the Minister about.
How are you seeking to minimise agency use?
What we seek to build in our homes is a bank of staff, who are not agency but maybe existing staff who have reduced their hours but would like the additional extra shift occasionally, those who have left but perhaps would still like to do some shifts or people who have retired and want to come back and do some additional hours. Last year we spent around £2.4m on agency staff but are continually working to minimise this. It's not just about the issue of the cost implications, but the continuity and quality of care.
You have a very broad geographical presence. Do you see yourselves remaining as a national scale provider?
MHA has services which span England, Scotland and Wales, developed historically in a whole range of different ways. Some in the early days through the legacy of someone leaving us buildings, which were converted into care homes. Others, where we have been approached after a care home provider has gone into administration, or a developer has sought a partnership with us.
What we are looking at now is how we optimise our continuum of care in a local area and can be more strategic about where future developments might take place. For example, if we already have a retirement living service and then have an opportunity to place a care home next to it, that may be more in line with where we go in terms of our strategy, rather than pursuing an opportunity to build a new care home 60 miles away.
Do you see MHA as having an optimum size in terms of the number of homes?
Our strategy review is more concerned with quality than number of homes.  There is also a shelf life for some of our older buildings, so some of the time we may not be developing a brand new home, but we might be redeveloping an existing one.  We need to take care of the stock that we already have, look at how that fits in with our continuum of care and see what opportunities arise going forward.
What development plans do you have?
We have recently opened two new homes in Stainton near Middlesborough and Shefford in Bedfordshire. These homes mean an extra 149 residents can be cared for by MHA, some of whom will be in specialist dementia care. In addition, people are now moving into our retirement living developments in Waterlooville near Portsmouth, Maidment Court at Poole and Mickle Hill in Pickering, Yorkshire.
What is your private payer:LA split and, given the pressure on LA fees, are you shifting more towards self-funders?
We have agreed with our Board to maintain a 60:40 private:LA split compared to a 50:50 split we used to have. This is the operating model which enables us to provide the quality of care that we are able to due to increases in LA or health fee structures not tracking inflation. There are a whole range of unchangeable costs we incur as a provider, including salaries and supplies. Additionally, people are coming to us later in life and have increased needs.
This all adds up to a figure for care which is not being met nationally by local authorities or the health service. It is a real challenge for this government, especially when they are trying to prevent bed blocking in the NHS.
Do you think we should be looking at a specific adult social care tax?
I believe the challenge facing the government is looking honestly at what the requirements of society are and then how you apportion the budget that you are able to raise in whatever way you do that. We know the current scenario is not sustainable and we are already seeing a number of providers not being able to sustain their business.
We have seen a lot of providers coming out of nursing. Are you committed to providing this service?
We have discussed with our Board the pressures in terms of nursing recruitment and retention, along with the challenges and risks around caring for people with a higher degree of personal and medical needs. They, and we, are committed to our nursing provision and supporting our nurses. This is one reason why we have significantly raised our salaries to enable us to recruit and retain our nursing staff.
What would you like to see in the Green Paper?
Other than addressing the funding and recruitment challenges we have spoken about, the Green Paper needs to support a far greater integration of health and social care. There is still the almost cultural barrier of a hierarchy between health and social care. It's not the continuum of calling it health and social care would imply. There is a risk of social care remaining a poor relation and that crucially needs to be addressed.